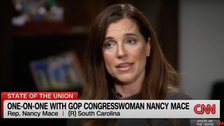 Rep. Nancy Mace (R-S.C.) defended her position on abortion, warning her fellow Republicans "they're walking the plank" over their extreme positions on reproductive rights.
"I'm pro-life," Mace told CNN's Dana Bash in an interview Sunday. "I have a fantastic pro-life voting record, but I also understand that we cannot be assholes to women."
Mace, who has previously shared her experience as a rape survivor, has called for exceptions to bills restricting abortion, and more accommodations for those pregnant.
"As a Republican woman today in 2023, this is a very lonely place to be," Mace said. "I feel like I'm the only woman on our side of the aisle advocating for things that all women should care about."
Mace continued: "No woman wants to go to the doctor and make the decision that she's going to have an abortion. Nobody wants that. And what are we doing to ensure that she doesn't have to make that decision? What are we doing about the foster care system? What are we doing about child care?"
Asked if Republicans would suffer in moderate districts across the country if they don't take steps to soften their position on the issue, Mace replied: "I think they're walking the plank."
Republicans, however, have continued to make moves to restrict the medical procedure even though their stance is unpopular with the majority of Americans, and has previously hurt them electorally, including during the 2022 midterms.
Last week, Alabama's Attorney General Steve Marshall (R) argued he has the right to prosecute those who provide and help women travel to get an abortion. Alabama has made abortion illegal at any stage, with the sole exception being to save the life or health of the mother.
Commerce Secretary Gina Raimondo on Sunday warned such threats could also affect a state's economy.
"I think that they're going to see these draconian, wrongheaded actions as it relates to reproductive health care are going to backfire as it relates to their ability to attract talent and attract business," Raimondo told CNN.
Following the Supreme Court's decision to overturn Roe v. Wade last summer, several states have banned abortion or passed bills severely restricting the procedure.