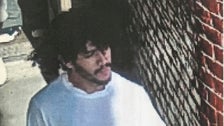 WEST CHESTER, Pa. (AP) — A recently convicted murderer who's been on the run for days after escaping a suburban Philadelphia prison was spotted shortly after midnight Saturday by residential security cameras in an area not far from the prison, authorities said.
Authorities haven't disclosed the circumstances of how Danelo Cavalcante, 34, managed to escape Thursday morning from Chester State Prison, and say the episode is under investigation. He was sentenced to life in prison last month for killing his ex-girlfriend in front of her children, and escaped while awaiting transfer to state prison.
Cavalcante was seen on cameras at around 12:30 a.m. in Pocopson Township, roughly 1.5 miles (2.4 kilometers) from the prison, the Chester County District Attorney's Office said in a statement.
Local police also received a report of an attempted burglary at a home around 11:30 p.m. Friday, although it wasn't immediately clear if Cavalcante was involved.
The district attorney's office said Cavalcante's appearance has not changed since he fled — a white T-shirt, a backpack, curly black hair and a closely cropped beard and mustache. Authorities described him as 5 feet (1.5 meters) tall and 120 pounds (54 kilograms).
A jury convicted Cavalcante of murdering Deborah Brandao in 2021. He is also wanted in his native Brazil in a separate slaying in 2017 and is considered an extremely dangerous person, authorities said.
Prosecutors say he killed his girlfriend to stop her from telling police about the charges against him in Brazil. He was captured in Virginia after Brandao's killing and authorities believe he was trying to return to his home country.
Law enforcement officers have been using drones, helicopters and dogs to locate Cavalcante. Searchers were focusing on railways, waterways and routes out of the area. The prison is roughly 25 miles (40 kilometers) west of Philadelphia.
Chester County District Attorney Deb Ryan said Friday that authorities believe Cavalcante is trying to flee south, but also have no evidence that Cavalcante has left the area or that he is receiving assistance from others.
Authorities said area residents should continue to scan video from their doorbells or surveillance cameras for anything suspicious and check their cars, sheds and any outbuildings. They also advised people to check the homes of vacationing neighbors and look out for missing cars, bicycles or any other mode of transportation Cavalcante could use to aid his flight.
Robert Clark, supervisor of the U.S. Marshals fugitive task force in Philadelphia, said the Brazilian consulate was advised of Cavalcante's escape.
It's not the first time an inmate was able to escape from a Pennsylvania lockup this year.
A homicide suspect was on the run for over a week after fleeing the Warren County jail on July 6 by climbing on exercise equipment, going through a window and scaling down a rope fashioned from jail bedding. He was caught looking dirty, wet and "worn out" from living in the wilderness to evade arrest, authorities said.
On May 7, two inmates escaped from the Philadelphia Industrial Correction Center by cutting a hole in a fence surrounding a recreation yard, and were gone for nearly 19 hours before officials knew they were missing. Both we captured the next week.