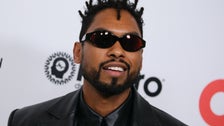 Artists often go to great lengths to entertain fans while performing, but singer Miguel's recent stage antics have left social media users hanging on by a thread.
During a special concert on Friday to announce his upcoming album, "Viscera," the 37-year-old singer pulled off a shocking feat by suspending himself in the air from hooks attached to his back piercings.
Before performing his new tune "Rope" at the Sony Studios in Los Angeles, two assistants hit the stage to pierce Miguel, whose full name is Miguel Jontel Pimentel, with metal rods before hoisting him up.
In several clips captured by concertgoers, Miguel is seen hanging above the crowd for around four minutes as he sings the song's lyrics: "I'm hanging on to nothing / I'm hanging from the ceiling / Rope around my neck."
Fans on X, formerly known as Twitter, ignited the social platform with reactions over the "insane" stunt.
Sources told TMZ that the "Quickie" crooner worked with a team of experts for months to nail the jaw-dropping stunt.
In a separate interview with the Los Angeles Times earlier this month, Miguel spoke about what the outlet described as an "ancient body modification practice" that involves securing large metal hooks in someone's back to hang them up. The singer called the practice an "exercise in trust."
"Initially it was a bit of, 'What is the most extreme way to push outside of what's expected?'" Miguel recounted. "How far can I go in demonstrating how far I'm willing to go for art, for conversation? I couldn't have known how committed I was to the real purpose of this shit until I had hooks in my back."
He said the experience was "scary" yet "freeing."
Miguel added: "It has so much to do with pain. What does pain mean?"
The Grammy-winning artist, whose now-ex-wife, Nazanin Mandi, filed for divorce in October 2022 following three years of marriage, told the outlet that he wrote the song "Rope" during a "period of loss and turmoil" before he tied the knot.
"I don't think I'd ever been in a place where I was creating from there," he shared.
Miguel found himself in hot water a decade ago after another head-turning incident onstage left his fans scratching their heads.
During the 2013 Billboard Music Awards, he tried to jump off the stage while performing, but missed his mark and ended up landing on a few members of the audience, sparking outrage from concertgoers.
Miguel's "Viscera" marks his first full-length album since 2017.