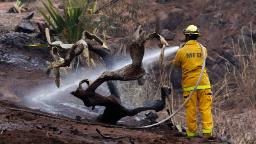 CNN
 — 

A slew of viral conspiracy videos on social media have made baseless claims that the Maui wildfires were started intentionally as part of a land grab, highlighting how quickly misinformation spreads after a disaster.
While the cause of the fires hasn't been determined, Hawaiian Electric — the major power company on Maui — is under scrutiny for not shutting down power lines when high winds created dangerous fire conditions. (Hawaiian Electric previously said both the company and the state are conducting investigations into what happened). Maui experienced high winds from Hurricane Dora in the south while it was also grappling with a drought. Wildfires across the region have long been a concern.
Still, conspiracy theories continue to circulate as nearly 400 people are still unaccounted for.
It's not uncommon for conspiracy theories to make the rounds after a national crisis. According to Renee DiResta, a research manager at Stanford University who studies misinformation, people often look for a way to make sense of the world when they are anxious or have a feeling of powerlessness.
"Theories that attribute the cause of a crisis to a specific bad actor offer a villain to blame, someone to potentially hold responsible," DiResta said. "The conspiracy theories that are the most effective and plausible are usually based on some grain of truth and connect to some existing set of beliefs about the world."
For example, someone who distrusts the government may be more inclined to believe someone who posts negatively about a government agency.
Conspiracy theorists on varying platforms claim the fires, which killed at least 114 people earlier this month, were planned as part of a strategic effort to weed out less wealthy residents on Maui and make room for multi-million dollar developments.
In one video, a user claims a friend sent him a video of a laser beam "coming out of the sky, directly targeting the city." "This was a direct energy weapon assault," he said. The video remains posted but now includes a label from Instagram listing it as "false information." The imagery appears to be from a previous SpaceX launch in California.
Related far-fetched theories say the alleged "laser beams" were programmed not to hit anything blue, explaining why so many blue beach umbrellas were left unscathed by the fires.
Other social media users allege elite Maui residents were behind the fires so they could buy the destroyed land at a discounted price and rebuild potentially a "smart city."
"You're telling me that these cheaper lower middle class houses burnt down directly across the street and all of the mansions are still standing?" one YouTube user posted, referencing aerial imagery taken of the destruction.
One tweet about a celebrity purchasing hundreds of acres across Maui over the past few years has received more than 12 million views on X, the platform formerly known as Twitter.
When a conspiracy theory gains traction online, others may chime in and offer explanations for details not discussed in the original post. Social media algorithms can amplify these theories based on user attention and interactions.
"Social media is incredibly valuable in crisis events as people on the ground can report the facts directly, but that usefulness is tempered, and can be dangerous, if misleading claims proliferate particularly in the immediate aftermath," DiResta said.
Social media platforms like Instagram, TikTok and YouTube have taken steps to curb the spread of conspiracy theories and misinformation, but some videos can slip through the cracks. Many platforms use a mix of tech monitoring tools and human reviewers to enforce their community guidelines.
Ahead of the publishing of this article, TikTok removed several conspiracy theory videos sent by CNN that were in violation of its community guidelines, which it characterizes as "inaccurate, misleading, or false content that may cause significant harm to individuals or society, regardless of intent" on the platform. A company spokesperson said more than 40,000 trust and safety professionals around the world review and moderate content at all hours of the day.
Meanwhile, in a statement provided to CNN, YouTube spokesperson Elena Hernandez said the platform uses different sections, such as top news, developing news and a fact-check panel, to provide users with as much context and background information as possible on certain trending topics, and will remove content when necessary.
"During major news events, such as the horrific fires in Hawaii, our systems are designed to raise up content from authoritative sources in search results and recommendations," Hernandez said.
Instagram also employs third-party fact-checkers to contact sources, check public data and work to verify images and videos on questionable content. They then rate and provide labels to the content in question, such as "false," "altered" or "missing context," to encourage viewers to think critically about what they're about to see.
As a result, those posts show up far less often in users' feeds and repeat offenders can face varying risks, such as losing monetization on their pages.
Social media platform X did not immediately respond to a request for comment.
Michael Inouye, a principal analyst at market research firm ABI Research, said social media companies are in a challenging spot because they want to uphold freedom of speech, but do so in an environment where posts that receive the most shares and likes often rise to the top of user feeds. That means posts sharing conspiracy theories that spark fear and emotion may perform better in a crisis than those sharing straightforward, accurate information.
"Ultimately, social media will have to decide if it wants to be a better news organization or remain this 'open' platform for expression that can run counter to the ethics and standards that is required by news reporting," Inouye said. "The problem is, even if something isn't labeled as 'news,' some will still interpret personal opinion as truth, which puts us back in the same position."