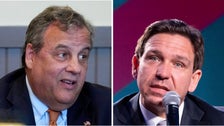 Former New Jersey Gov. Chris Christie (R) hinted at consequences for Florida Gov. Ron DeSantis (R) if the latter decides to follow the advice outlined for him in a leaked strategy memo that was made public this week, to the delight of DeSantis' detractors.
"I don't know. A canned line used by a Florida politician, on a debate stage, against me? What could go wrong?" Christie joked at an Atlanta event Saturday, according to Semafor reporter Dave Weigel and the blog Florida Politics.
It referenced the moment Christie eviscerated Sen. Marco Rubio (R-Fla.) onstage by calling out his "memorized" responses during a primary debate seven-and-a-half years ago.
Christie pounced on Rubio for his lack of practical experience after the Florida senator criticized him and then-President Barack Obama before offering praise for "the single greatest nation in the history of the world."
"That's what Washington, D.C., does. The drive-by shot at the beginning with incorrect and incomplete information, and then the memorized, 25-second speech that is exactly what his advisers gave him," Christie said at the February 2016 debate, prompting cheers.
He added: "The memorized 30-second speech where you talk about how great America is at the end of it doesn't solve one problem for one person."
Christie also hammered his point later when Rubio said, "Barack Obama doesn't know what he's doing."
"There it is," Christie interjected, earning applause. "There it is, the memorized 25-second speech." (Watch the clip below.)
DeSantis' strategy memo, first reported by The New York Times, instructed the often stiff and dispassionate governor to accomplish four tasks in the debate, the fourth being to "defend Donald Trump in absentia in response to a Chris Christie attack." It had been prepared by Axiom Strategies, a company owned by Republican strategist Jeff Roe.
While Trump has been relentless in his attacks on DeSantis, the governor has generally been timid in his replies to not alienate Trump's zealous base.
If he does try to defend Trump, DeSantis should just "get the hell out of the race," Christie said Friday, according to The New York Times.
"If you're running for president of the United States, are you really going to let some other group of people tell you what to say?" Christie said of DeSantis, per the Times. "This campaign of his has gone from up here to down here because people are really beginning to wonder what the hell he stands for."
The first 2024 Republican primary debate is scheduled for Aug. 25 in Milwaukee, although the candidate lineup is still being set. Trump is not expected to participate.