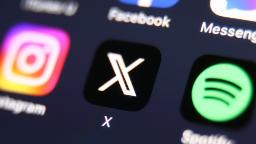 New York
CNN
 — 

Link loading times to some Twitter competitors and news media sites posted to X, the social media platform formerly known as Twitter, appeared to be delayed or throttled for much of Tuesday.
Links posted to X that directed to sites including the New York Times, Reuters, Facebook, Substack and X competitors Bluesky and Threads took around 5 seconds to load — a notable slowdown from the typically nearly instantaneous loading times, according to observations by CNN reporters. Many other sites, such as NBA.com, CNN, retailer Target and other sites did not appear to be affected by the issue.
The delays were first reported by users of the technology forum Hacker News.
The reason for the delays in loading links to some sites was not clear. X did not respond to multiple requests for comment from CNN. The site has been plagued by technical issues after Musk bought the site last year and laid off the majority of the staff. And the issue seemed to have resolved for some users by Tuesday afternoon.
However, the delays affected the sites for rival platforms, as well as news outlets that Twitter owner Elon Musk has previously criticized. Musk earlier this year feuded with the New York Times over its unwillingness to pay for his platform's new paid verification program, and he has separately called for the outlet to be "cancelled."
The apparent delay in visiting links to the New York Times was easy to verify with simple commands on a computer. Will Dormann, a cybersecurity researcher, plugged the New York Times website into a basic command program on his Mac and compared the loading time for that website with that of a dummy website. The load time for the New York Times site was about 4.5 seconds longer, Dormann told CNN Tuesday.
X, like other platforms, uses a link-shortener service to collect information on users who click on links shared on the platform. When a link for a New York Times article plugged into X's link-shortener takes far longer to load than other websites using the same link-shortening service, "this is the clear indicator that there are server-side [at the X-operated shortener] shenanigans going on," Dormann told CNN.
The New York Times said in a statement to CNN that it had observed the delay, but, "We have not received any explanation from the platform about this move."
"While we don't know the rationale behind the application of this time delay, we would be concerned by targeted pressure applied to any news organization for unclear reasons," it said in the statement. "The mission of The New York Times is to report the news impartially without fear or favor, and we'll continue to do so, undeterred by any attempts to hinder this."
Meta, the parent company of Facebook and Threads, did not respond to a request for comment on the delay. But CEO Mark Zuckerberg responded to a post about the issue on Threads with a thinking face emoji.
Musk and Zuckerberg have in recent weeks been making plans to take one another on in a cage fight, although Zuckerberg this week signaled that the fight may be off because he believes Musk "isn't serious." "Elon won't confirm a date, then says he needs surgery, and now asks to do a practice round in my backyard instead," Zuckerberg wrote on Threads Sunday. Musk on Monday appeared to respond by suggesting in a series of tweets that he might show up at Zuckerberg's home to fight anyway.
Substack cofounders Chris Best, Hamish McKenzie and Jairaj Sethi said in a statement to CNN that they hoped X would reverse the delay but that "Substack was created in direct response to this kind of behavior by social media companies."
"Writers cannot build sustainable businesses if their connection to their audience depends on unreliable platforms that have proven they are willing to make changes that are hostile to the people who use them," the Substack cofounders said.
Reuters said in a statement that it was aware of reports "of a delay in opening links to Reuters stories on X. We are looking into the matter."
Bluesky did not immediately respond to a request for comment about the link delay.
X briefly sparked backlash in December over a decision to ban links to rival social media services, including Facebook, Instagram and Twitter alternatives like Mastodon, which was later reversed. The platform has also faced a series of outages and technical issues in recent months that have affected users' ability to read tweets, view photos and click through links after Musk slashed the company's staff and cut back on infrastructure spending.
-CNN's Jon Passantino and Oliver Darcy contributed to this report.