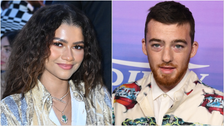 Zendaya recently showed her love for a mural that honors the late "Euphoria" actor Angus Cloud.
The Emmy winner posted a shot of the mural in an Instagram Story on Wednesday. The mural, which features a portrait of Cloud with the words "Long live" above his name and "We love you" above his portrait, is in Cloud's hometown of Oakland, California. It was created by local artist Darin Balaban with the help of people who were close to Cloud, KPIX-TV, the CBS affiliate in San Francisco, reported.
Cloud, who played Fez on the HBO series "Euphoria," died on July 31. He was 25.
Zendaya joins several of her "Euphoria" cast mates who have paid tribute to Cloud since news of his death was announced last month.
The actor referred to Cloud as her "brother" in a touching Instagram post earlier this month.
"I'm so grateful I got the chance to know him in this life, to call him a brother, to see his warm kind eyes and bright smile, or hear his infectious cackle of a laugh," she wrote.
Cloud's mother, Lisa Cloud, spoke out about her son's death in a Facebook post last week, writing that her son, who was mourning the recent loss of his father, "did not intend to end his life." A cause of death has yet to be announced.
The streaming platform Max has since honored Cloud with a message added to two episodes of "Euphoria." A tribute appears at the start of the HBO show's pilot episode and the Season 2 premiere that reads: "In memory of Angus Cloud 1998 – 2023" alongside a black-and-white photo of the actor.