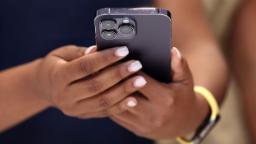 CNN
 — 

Get your thumb ready for next month. Apple
(AAPL) is making a subtle change to the iPhone's software that will likely mess with your muscle memory: The big red "end call" button is moving.
The iPhone's phone app will get a series of updates coming to iOS 17, including an updated design that repositions the hang up button to the bottom right of the screen, next to other functions. The button currently sits separately at the bottom middle of the phone app, underneath the buttons to mute, access the keypad or add a call.
The new call screen, which is already available for download in a beta version for developers, sparked some strong reactions among iOS users on social media: "iOS 17 has the FaceTime button where the end call button used to be," tweeted one user. "Muscle memory be damned."
The change is likely to streamline the look of the phone app and put all functions in one place. Apple did not respond to a request for comment.
At its annual Worldwide Developer Conference in May, the company showed off a slew of new tools coming to iOS 17 that make calling and messaging others more personalized and customized. iPhone users, for example, will be able to design contact "posters," a custom image to appear when they call someone or receive their call.
Meanwhile, a new feature called Live Voicemail will transcribe a caller's message in real time, so users can decide whether to ignore or take the call, and a tool called NameDrop will let users share their contact information by holding two iPhones close together. In addition, FaceTime will support the ability to leave video messages when someone isn't available to chat.
Other changes coming to iOS 17 include a more accurate autocorrect, improved dictation in iMessage, and a more responsive Siri. Apple typically launches its latest mobile operating system in September, following its annual iPhone event.