Rapper Tory Lanez was sentenced to 10 years on Tuesday after he was found guilty in December of shooting and wounding rapper Megan Thee Stallion, according to multiple reports.
A Los Angeles jury found Lanez, whose real name is Daystar Peterson, guilty of all three charges against him, including assault with a semiautomatic firearm, having a loaded, unregistered firearm in a vehicle, and discharging a firearm with gross negligence, after a two-week trial in December.
The 31-year-old Canadian rapper pleaded not guilty despite damning evidence and testimony. His former attorney, George Mgdesyan, said after the trial that Lanez's legal team would consider all its options, including an appeal, which can be filed after sentencing. Lanez's current attorneys, Jose Baez and Matthew Barhoma, may appeal his conviction, The Associated Press reported.
His attorneys also pushed for a new trial in a motion that was denied in May.
While Lanez's charges could've carried a maximum sentence of up to 22 years, the prosecutors only sought a 13-year sentence. Before his sentencing, Lanez's attorneys submitted a 41-page memo last week seeking probation and drug rehabilitation for Lanez, Rolling Stone reported.
"Assuming the allegations are true, Mr. Peterson's psychological, physical, and childhood trauma was a factor in the commission of the offense," the document reads.
"Likewise, the current offense is connected to Mr. Peterson's childhood trauma and mental illness, alcohol-use disorder," which "compromised his ability to manage and regulate his emotions and behaviors and that his alcohol-use disorder played a significant role in the alleged offenses," it added.
Before and during the trial, Lanez attempted to appeal to Black men by condemning cancel culture and relying on misogynoir — a brand of misogyny aimed at Black women — against Megan Thee Stallion, whose real name is Megan Pete.
"Please don't ruin my life," Lanez told Judge David Herriford, who is also Black, at a hearing where he sought a new trial. "I could be your brother."
"The court finds no error, prosecutorial misconduct or newly discovered evidence," Herriford said on May 9 when he denied Lanez's motion, according to City News Service.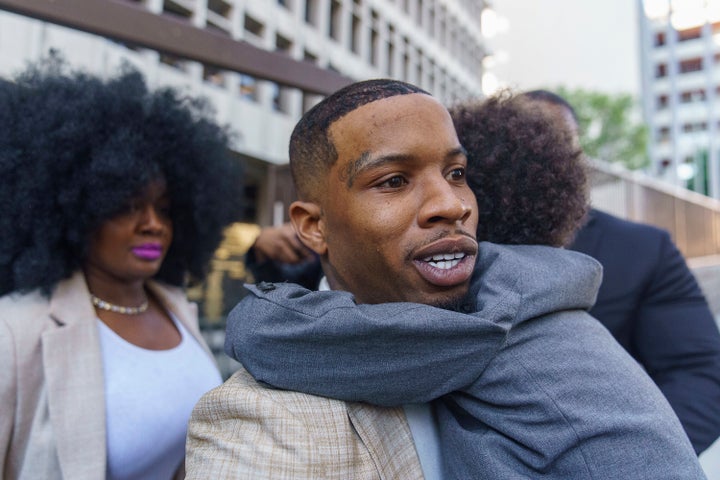 The trial focused on the early morning hours of July 12, 2020, after Megan, Lanez and two others drove off from a get-together at reality star Kylie Jenner's mansion in the Hollywood Hills. Megan, who had dozens of bullet fragments in both of her feet at the time, initially told police she stepped on glass.
"At this time, we were at the height of police brutality and the situation with George Floyd," she testified, explaining why she didn't tell the police what happened right away. "I don't wanna see anybody die, I don't wanna die," she added.
The 28-year-old Houston rapper also said that the "big boy's club" that is the music industry wouldn't have believed her, which is why she didn't speak out publicly following the incident.
She was right — several men in the music industry used the shooting as a joke and accused her of lying, including Drake, 50 Cent and DaBaby.
Even further, hip-hop bloggers, influencers and pundits released an onslaught of misinformation about the trial slanting in favor of Lanez, NBC's Kat Tenbarge and Char Adams reported in December. In many cases, the misinformation about the trial turned into hostility and attacks towards journalists and Megan Thee Stallion's fans.
Mgdesyan, Lanez's former attorney, also relied heavily on misogynoir and attacks on Megan Thee Stallion throughout the trial. He painted the Houston rapper as a woman jealous of Lanez and wrapped up in a love triangle with him and her former friend Kelsey Harris.
He argued throughout the trial that Harris, who was also in the car, was the one who shot her. But the defense's own witness, a neighbor who called the cops during the shooting, weakened that claim with somewhat confusing testimony, claiming, "I believe it was a girl first," but also that "[Lanez] was firing everywhere."
"The three of them were beating her," the neighbor said of Megan. "She was in the fetal position. To me, it appeared they were going to throw her into the river … It appeared to me they were going to kill her."
The prosecutors, Deputy District Attorneys Alex Bott and Kathy Ta, pointed to Megan's testimony, a pretrial interview from Harris in which she said Lanez "physically assaulted" her and shot Megan, and multiple messages and calls from Lanez apologizing after the incident.
Lanez did not testify during the trial.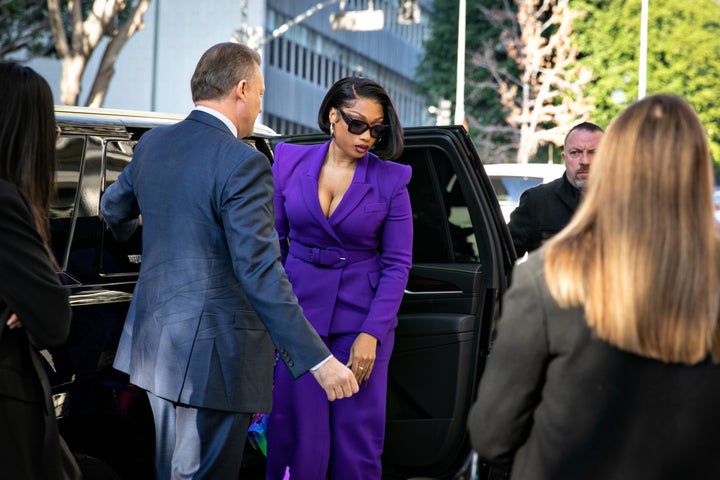 "This situation has only been worse for me and it has only made him more famous," Megan testified on the second day of the trial. "This has messed up my whole life."
"I don't feel like I want to be on this Earth," she said. "I wish he would have just shot and killed me if I knew I would have to go through this torture."
Following the December verdict, Lanez's family members made their displeasure known inside and outside of the courtroom.
"It's not over!" Lanez's father, Sonstar Peterson, shouted repeatedly. "God does not lose! And even though we've come to this juncture, trust me, you will see that our God does not fail."
"Roc Nation, you will crumble!" he continued, referencing the entertainment agency where Megan is signed.
The "Tina Snow" rapper said in an April essay for Elle that she "truly survived the unimaginable."
"Not only did I survive being shot by someone I trusted and considered a close friend, but I overcame the public humiliation of having my name and reputation dragged through the mud by that individual for the entire world to see," she said.
"When the guilty verdict came on Dec. 23, 2022, it was more than just vindication for me, it was a victory for every woman who has ever been shamed, dismissed, and blamed for a violent crime committed against them," she added.
Need help? In the U.S., call 1-800-799-SAFE (7233) for the National Domestic Violence Hotline.
If you or someone you know needs help, dial 988 or call 1-800-273-8255 for the National Suicide Prevention Lifeline. You can also get support via text by visiting suicidepreventionlifeline.org/chat. Additionally, you can find local mental health and crisis resources at dontcallthepolice.com. Outside of the U.S., please visit the International Association for Suicide Prevention.