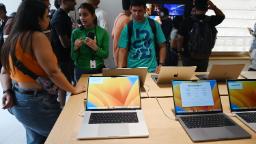 CNN
 — 

India has placed restrictions on the import of computers and laptops in a surprise move from the government of Prime Minister Narendra Modi which has been trying to encourage domestic manufacturing in the tech sector.
Importers will now need to apply for licenses in order to bring laptops, tablets, personal computers and other electronic devices into the country, according to a notice issued by the Ministry of Commerce and Industry on Thursday. Previously, the import of such items was unrestricted.
The ministry didn't provide a reason for the change in rules, however Modi has aggressively pushed his "Make in India" campaign, which promotes local manufacturing in a bid to create more jobs. It follows a similar curb on smart TV imports in 2020.
India's electronic imports stood at $19.7 billion in the April to June period, up 6.25% from the same period in 2022, according to Reuters.
CNN has contacted Apple
(AAPL) and Samsung
(SSNLF), top laptop sellers in the South Asian country, for comment but has not yet received responses.
India's push to manufacture domestically comes at a crucial time for the world's most populous nation, as companies look beyond China to secure crucial supply chains.
India's working-age population is expected to hit one billion over the next decade, according to the Organisation for Economic Co-operation and Development. Its large and young labor force makes the country a big draw for global companies seeking alternative manufacturing hubs to China.
Earlier this year, India's commerce minister, Piyush Goyal, said Apple was already making between 5% and 7% of its products in India.
"If I am not mistaken, they are targeting to go up to 25% of their manufacturing," he said at an event in January.
In June, US chipmaker Micron
(MICR) announced a new factory in the western state of Gujarat, calling it the country's first semiconductor assembly and test manufacturing facility.
The venture will see Micron invest up to $825 million and create "up to 5,000 new direct Micron jobs and 15,000 community jobs over the next several years," according to the company.
Foxconn, the world's largest contract electronics maker and a key supplier to Apple, is also looking to expand its manufacturing operations in India.
Last month, it abruptly announced it was exiting an ambitious $19.4 billion joint venture with Vedanta
(VEDL), an Indian metals and energy conglomerate, to help build one of the country's first chip factories.
But, the company said it was still committed to investing in Indian chipmaking and was applying to a government program that subsidizes the cost of setting up semiconductor or electronic display production facilities in the country.