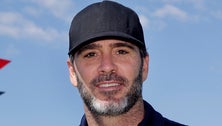 NASCAR great Jimmie Johnson is speaking up about a recent tragedy befalling his family.
The seven-time Cup Series champion lost three of his in-laws last month in what authorities believe was a murder-suicide. Jack and Terry Lynn Janway — the parents of Johnson's wife — as well as their young grandson Dalton were found dead June 26 in an Oklahoma home.
"Our family is devastated by the profound loss of Lynn, Jack and Dalton Janway," Johnson wrote Friday in an Instagram post. "We have been humbled by the outpouring of love and support during this unthinkably sad time and remain grateful for all of your compassion."
The bodies were discovered at the Muskogee home after a woman called 911 to report a gun-related disturbance. Police entered the house to find Jack Janway, 69, dead in a hallway. They then heard a gunshot before coming upon the bodies of Terry Lynn Janway, 68, and Dalton, 11.
Muskogee police spokesperson Lynn Hamlin said at the time that investigators believed Terry Lynn Janway fatally shot her husband and grandson before taking her own life. Police bodycam footage captured the moment when officers entered the home and discovered Jack Janway dead under a blanket.
NASCAR issued a statement of sympathy when the news first broke.
"We are saddened by the tragic deaths of members of Chandra Johnson's family," it said, referring to Jimmie Johnson's wife. "The entire NASCAR family extends its deepest support and condolences during this difficult time to Chandra, Jimmie and the entire Johnson & Janway families."
Jimmie Johnson pulled out of a race in Chicago after the tragedy but refrained from publicly commenting on the incident until Friday. Though no motive for the shooting has been put forward, Terry Lynn Janway reportedly struggled with depression after losing her son in a skydiving accident in 2014.
Johnson retired from NASCAR in 2020 to join IndyCar's Chip Ganassi Racing. He recently took part in a NASCAR Cup Series race in May in Charlotte, North Carolina.
If you or someone you know needs help, call or text 988 or chat 988lifeline.org for mental health support. Additionally, you can find local mental health and crisis resources at dontcallthepolice.com. Outside of the U.S., please visit the International Association for Suicide Prevention.