True to form, Pink and Brandi Carlile have channeled their shared grief over Sinéad O'Connor's death into a jaw-dropping musical performance.
The two women were in Ohio for the first U.S. performance of Pink's Summer Carnival Tour on Wednesday when they learned that O'Connor had died at age 56. Taking the stage at Cincinnati's Great American Ball Park, the pair celebrated O'Connor's legacy with a breathtaking rendition of "Nothing Compares 2 U," performed in duet.
Moments before the performance, Pink explained to the crowd how O'Connor's signature song helped blaze a trail for her own journey as a musician.
"My mom grew up in Atlantic City and I used to go down to the Ocean City Boardwalk with my $10 and I would make a demo tape," she told the crowd, according to Billboard. "I would make a little cassette tape and imagine it was my demo for the record company, and it would always be either 'Greatest Love of All' by Whitney Houston or 'Nothing Compares 2 U' by Sinead O'Connor."
She went on to note: "So in honor of Sinead, and in honor of my very, very talented friend Brandi Carlile, I asked her if she would come out here and sing this song with me."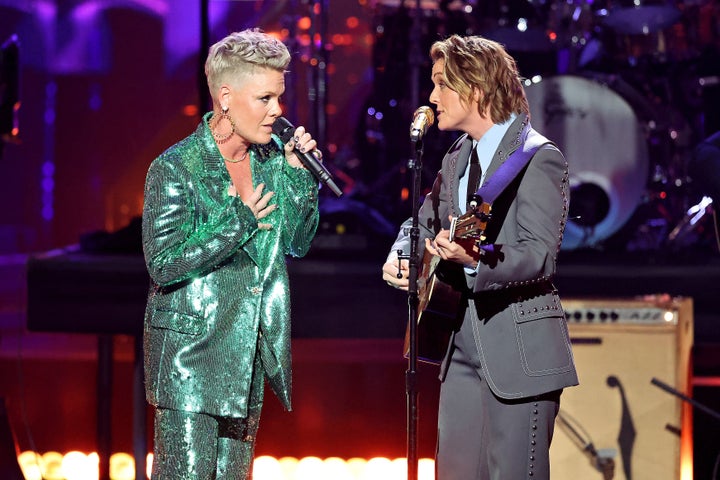 Carlile shared a short video of the performance on her social media platforms, along with the caption: "Bittersweet moment."
Though Pink and Carlile have sung "Nothing Compares 2 U" individually over the years, seeing the two artists join forces on the night of O'Connor's death struck a deep chord among fans, who praised the performance on social media.
"I think Sinéad would be proud to have been honored by the two of you, who stand so proudly and beautifully for everything she spent her life fighting for," one person wrote. "An absolutely beautiful tribute to a remarkable human."
Added another: "Thank you both for honoring her so beautifully! After so many artists decided to tear her down in her life, it's heartwarming to see her praised for a change."
O'Connor's family confirmed the Grammy winner's death Wednesday in a statement to the BBC.
Though a cause of death has not yet been made public, police were reportedly called to O'Connor's London home, where they found the singer unresponsive. She was pronounced dead at the scene.
Watch Pink and Brandi Carlile perform "Nothing Compares 2 U" below.