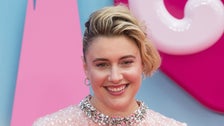 Greta Gerwig has personal ties to the final scene of the new "Barbie" film, which she coined a "mic-drop" moment.
Warning: Spoilers ahead for the end of "Barbie."
In the closing scene, Barbie (Margot Robbie), who decides to leave Barbie Land and stay in the "real world" as a human after learning to embrace the complexities of society, enters an office building bubbling with excitement before announcing, "I'm here to see my gynecologist." The screen then cuts to black.
Giving insight into the "emotional" scene, Gerwig told USA Today that with the hit film it was "important for me that everything operated on at least two levels."
"I knew I wanted to end on a mic-drop kind of joke, but I also find it very emotional," the filmmaker said in the interview that was published Saturday.
Sharing how the moment carries a powerful message stemming from her childhood, she explained, "When I was a teenage girl, I remember growing up and being embarrassed about my body, and just feeling ashamed in a way that I couldn't even describe. It felt like everything had to be hidden."
Gerwig continued: "And then to see Margot as Barbie, with this big old smile on her face, saying what she says at the end with such happiness and joy. I was like, if I can give girls that feeling of, 'Barbie does it, too' — that's both funny and emotional."
The "Lady Bird" director added of the film's finale: "It was always about looking for the levity and the heart."
Gerwig recently revealed to Indiewire that Barbie's closing line "sort of" came to her in a dream, crediting the "cinema gods" and the "gifts" they gave her for sparking the a-ha moment while she slept.
The film's insightful ending is yet another example of the many scenes that Gerwig crafted with tenderhearted moviegoers in mind.
Speaking to Rolling Stone, Gerwig revealed that she had to push to include the scene in "Barbie," in which Barbie (Robbie) and Ken (Ryan Gosling) are in "the real world" and pass by an elderly woman on a bench.
During the heartfelt moment, Barbie stops to tell the woman she is beautiful. According to Gerwig, studio executives tried to convince her to drop the scene before it was released.
"I love that scene so much," Gerwig told the magazine. "And the older woman on the bench is the costume designer Ann Roth. She's a legend. It's a cul-de-sac of a moment, in a way — it doesn't lead anywhere. And in early cuts, looking at the movie, it was suggested, 'Well, you could cut it. And actually, the story would move on just the same.' And I said, 'If I cut the scene, I don't know what this movie is about.'"
"Barbie," which has already broken box office records during its opening weekend, is now playing in theaters.