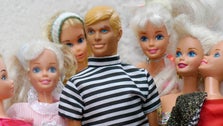 We're sure they were bro-Ken up about it.
Allison Jones, a casting director for the "Barbie" movie, told Vanity Fair recently that a few beloved celebs narrowly missed playing Kens in Greta Gerwig's box office smash.
Jones said that "Saturday Night Live" star Bowen Yang, "Schitt's Creek" alum Dan Levy and "Dear Evan Hansen" actor Ben Platt almost made it into Barbieland as variations on the hunky male doll.
"They were, I'm not kidding, really bummed they couldn't do it," Jones said. (Sic-Ken-ed, you might say.)
Yang, Levy and Platt had to bow out of their potential roles due to COVID conditions that kept the cast filming in London for several months. The three actors couldn't squeeze the extended stay into their schedules. (To be fair, that's a lot of wee-Ken-ds away from home.)
Ultimately, Simu Liu, Kingsley Ben-Adir, Ncuti Gatwa, Scott Evans and John Cena scored roles as Kens in the film.
It also seems that another actor was eyeing the role of Allan, a character played in the movie by Michael Cera.
"Dear, dear Jonathan Groff was like, 'I can't believe I'm typing this,'" Jones said of the "Glee" alum. "But I can't do Allan."
While plenty of actors were eager to play Kens, Ryan Gosling, whose version of Ken is most prominent in Gerwig's movie, apparently wasn't very ta-Ken with the role — at first.
Margot Robbie, who stars as Barbie and co-produced the film, said in a SiriusXM interview that she really, really wanted Gosling to play opposite her as Ken, and that she texted him endlessly about the role — but Gosling wasn't replying.
"I would see a sea of blue on my phone," Robbie admitted. (Maybe Gosling was chic-Ken?)
Robbie was so ardent about Gosling playing her rollerblading bud that Gerwig said she had to rein Robbie in a bit.
"Margot was like, 'Is it weird if I go to his house?'" Gerwig said. "I was like, 'Don't go to his house! Stay put!'"
Robbie said she eventually managed to awa-Ken Gosling's interest with a bribe.
"In the end, I promised Ryan a present every day if he did the movie," Robbie admitted. "And then when he did do the movie, I was like, 'Oh, shit. I gotta get so many presents.'"
But Robbie came through, saying she gave Gosling "Ken-related things" every single day on set, including a puka shell necklace and a horse-themed lunchbox.
We like to imagine the gifts also included some gel, so Gosling could slic-Ken his hair into that signature blonde 'do.