Country singer Jason Aldean is responding to backlash over the lyrics and music video for his track "Try That In A Small Town," telling fans the politically-charged song has nothing to do with race.
Aldean defended himself against accusations he'd written a "pro-lynching song" on Twitter Tuesday, one day after his music video was pulled from CMT over its troubling imagery.
Though "Try That In A Small Town" first came out in May, the song didn't start catching heat until last Friday's debut of the music video, where Aldean performs on the steps of a Tennessee courthouse that was the site of a historic lynching while news footage of violent protests flash in between.
The footage was paired with lyrics warning demonstrators who "cuss out a cop, spit in his face" or "stomp on the flag and light it up" to "see how far ya make it down the road," among other threats.
Aldean downplayed the confrontational tone of "Try That In This Small Town" on social media on Tuesday, telling fans: "In the past 24 hours I have been accused of releasing a pro-lynching song (a song that has been out since May) and was subject to the comparison that I (direct quote) was not too pleased with the nationwide BLM protests. These references are not only meritless, but dangerous."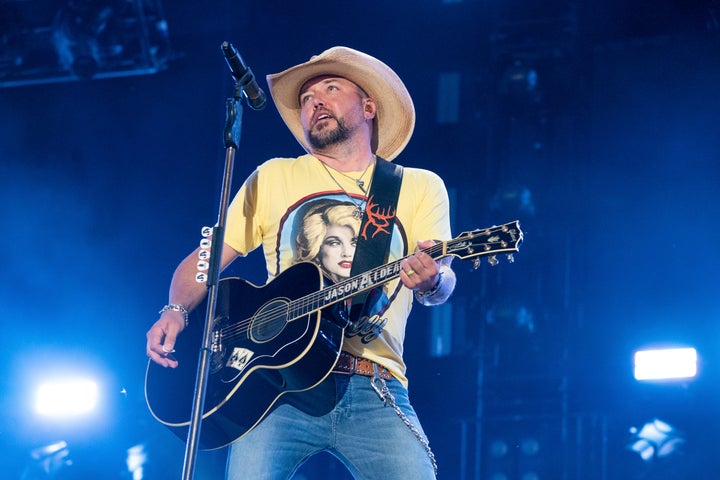 "There is not a single lyric in the song that references race or points to it- and there isn't a single video clip that isn't real news footage," he went on. "And while I can try and respect others to have their own interpretation of a song with music- this one goes too far."
Aldean dismissed claims that his song could promote violence, noting his place at the Route 91 Harvest music festival mass shooting in Las Vegas in 2017.
"As so many pointed out, I was present at Route 91-where so many lost their lives- and our community recently suffered another heartbreaking tragedy," he explained. "NO ONE, including me, wants to continue to see senseless headlines or families ripped apart."
The country rocker then tried to paint "Try That In A Small Town" with a more wholesome brush, explaining how the song "refers to the feeling of a community that I had growing up, where we took care of our neighbors, regardless of differences of background or belief. Because they were our neighbors, and that was above any differences."
Aldean, who has bucked heads with other Nashville performers over his right-wing views, also said, "My political views have never been something I've hidden from, and I know that a lot of us in this country don't agree on how we get back to a sense of normalcy where we go at least a day without a headline that keeps us up at night. But the desire for it to — that's what this song is about."
Aldean, a staunch supporter of Donald Trump, explained why he became an outspoken conservative in a 2022 interview, telling the site Taste of Country, "When you got kids and you're kind of seeing the future for them, like what it looks like, it's pretty scary."
"So I think for me, just seeing that, and you know, just how everything has been the last couple of years has been pretty wild. A lot of things that I don't agree with, and sometimes it's kind of hard for me to sit back and not say anything."