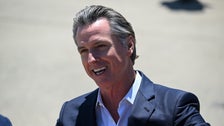 California Gov. Gavin Newsom (D) says he watches Fox News every night to understand it and observe patterns in conservative media ― even though members of his staff don't think it's healthy.
Newsom criticized the cable news network, as well as right-wing outlets NewsMax and One America News Network, during a new interview with MSNBC's Jen Psaki. He accused the conservative media outlets of fomenting an environment "where illusion rules, not facts," and denounced "what they're doing to divide this country."
"Do you occasionally turn on Fox prime time and see what happens?" Psaki asked.
"Not occasionally. Every night," Newsom said.
"My staff has quite literally tried to have interventions with me about it. They say I'm too obsessed with it, but I need to understand it," he said. "I don't want to know what they think ― I want to see the patterns, and what you see are patterns that emerge."
Psaki also asked Newsom if he believes Democrats should still appear on Fox News.
"It contributes to the mental health crisis in the state," he said. "So on the basis of one's own personal conditions, I would not recommend it," he added with a laugh.
Newsom did in fact appear on Fox News last month, using the opportunity to push back on misinformation. During an interview with Sean Hannity, Newsom dissected the star host's talking points about California's economy and President Joe Biden's ability to do his job, among other topics.
In January, he called the Fox News prime-time lineup a "disgrace" after a mass shooting in Monterey Park where 11 people were killed.
"Their xenophobia, their racial priming ― what they have done to perpetuate crime and violence in this country, by scapegoating, and by doing not a damn thing about gun safety, not a damn thing for decades," he said.