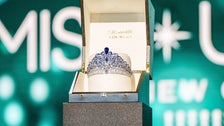 Dutch model Rikkie Valerie Kollé has made pageant history as the first trans woman to win Miss Universe Netherlands.
The Miss Nederland organization announced Kollé, 22, was crowned on Saturday, following a ceremony that featured 2022's Miss Netherlands Ona Moody and reigning Miss Universe R'Bonney Gabriel of the USA.
Nathalie Mogbelzada of Amsterdam was named first runner-up while Habiba Mostafa was awarded Miss Congeniality and Lou Dirchs earned Miss Social Media.
Kollé will be the second trans woman to compete in Miss Universe's global competition, following Spain's Angela Ponce in 2018. The pageant's parent organization began allowing transgender women to compete in 2012.
The model and actress, who previously appeared on "Holland's Next Top Model," celebrated her win in a Saturday Instagram post which was written in her native Dutch.
"It's unreal but I can call myself @missnederland 2023," Kollé wrote. "It was an educational and wonderful process, my year can't go wrong anymore"
"I am so proud and happy I can't describe it," she went on. "I made my community proud and showed it can be done."
After thanking the judges, her fellow finalists, family and friends, Kollé told fans, "And wherever you are in the world, I want to be there for you and be the example that I myself missed as a little me. On to many more adventures, let's get @missuniverse ready. So excited!!!"
After her historic turn as the first transgender winner of Miss Universe Netherlands, she'll participate in the international Miss Universe competition when it takes place in El Salvador later this year.
Last year, the Miss Universe Organization announced some major updates to their rules. The 2023 competition will be the first to allow married women and women with children to compete.