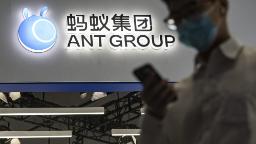 Taipei/London
CNN
 — 

China's top financial regulators have fined Ant Group — the fintech firm founded by billionaire Jack Ma — about 7.1 billion yuan ($994 million) for breaking rules related to consumer protection and corporate governance.
Ant Group had also broken rules relating to "business activities in banking and insurance, payments, anti-money laundering, and funds sales," the China Securities Regulatory Commission, the People's Bank of China and the National Financial Regulatory Administration said in a joint statement.
"We will comply with the terms of the penalty in all earnestness and sincerity and continue to further enhance our compliance governance," Ant Group said in a statement.
Ant Group is an affiliate of e-commerce giant Alibaba, which was also founded by Ma.
Shares in Alibaba rose sharply on Friday as investors appeared to bet that the fines draw a line under a regulatory crackdown that began back in November 2020 when Ant Group was forced to suspend its IPO just days before its launch. It was on track to raise $37 billion and become the biggest share sale in history.
That marked the start of a broader campaign by the Chinese government to curb the country's private enterprise, which had become too powerful in the eyes of the ruling Communist Party. In April 2021, Alibaba was fined 18.2 billion yuan ($2.5 billion) — a record for China — for behaving like a monopoly.
Guo Shuqing, the Communist Party boss at the People's Bank of China, told state-run Xinhua news agency in January that the government's crackdown was essentially over as it hoped to boost economic growth, jobs and China's competitiveness abroad.
That same month, Ma ceded control of Ant Group after the company's spent the past two years revamping its business, from consumer lending to insurance products, to appease regulators.
Since then, Alibaba has announced plans to split its business into six separate units, each overseen by its own chief executive and board of directors. Alibaba said it hoped the new structure would allow it to build more nimble companies that could create more value for investors.
Separately, China's financial regulators also announced a fine of nearly 3 billion yuan ($415 million) for Tenpay, Tencent's
(TCEHY) online payment platform, according to information posted on the PBOC website on Friday.