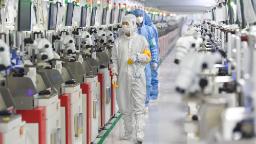 Hong Kong
CNN
 — 

A trade war between China and the United States over the future of semiconductors is escalating.
Beijing hit back Monday by playing a trump card: It imposed export controls on two strategic raw materials, gallium and germanium, that are critical to the global chipmaking industry.
"We see this as China's second, and much bigger, counter measure to the tech war, and likely a response to the potential US tightening of [its] AI chip ban," said Jefferies analysts. Sanctioning one of America's biggest memory chipmakers, Micron Technology
(MU), in May was the first, they said.
Here's what you need to know about gallium and germanium, how they could play into the chip war and whether more countermeasures could be coming.
Last October, the Biden administration unveiled a set of export controls banning Chinese companies from buying advanced chips and chip-making equipment without a license.
Chips are vital for everything from smartphones and self-driving cars to advanced computing and weapons manufacturing. US officials have talked about the move as a measure to protect national security interests.
But it didn't stop there. For the curbs to be effective, Washington needed other key suppliers, located in the Netherlands and Japan, to join. They did.
China eventually retaliated. In April, it launched a cybersecurity probe into Micron before banning the company from selling to Chinese companies working on key infrastructure projects. On Monday, Beijing announced the restrictions on gallium and germanium.
Gallium is a soft, silvery metal and is easy to cut with a knife. It's commonly used to produce compounds that are key materials in semiconductors and light-emitting diodes.
Germanium is a hard, grayish-white and brittle metalloid that is used in the production of optical fibers that can transmit light and electronic data.
The export controls have drawn comparisons with China's reported attempts in early 2021 to restrict exports of rare earths, a group of 17 elements for which China controls more than half of the global supply.
Gallium and germanium do not belong to this group of minerals. Like rare earths, they can be expensive to mine or produce.
This is because they are usually formed as a byproduct of mining more common metals, primarily aluminum, zinc and copper, and processed in countries that produce them.
China is the world's leading producer of both gallium and germanium, according to the US Geological Survey. The country accounted for 98% of the global production of gallium, and 68% of the refinery production of germanium.
"The economies of scale in China's extensive and increasingly integrated mining and processing operations, along with state subsidies, have allowed it to export processed minerals at a cost that operators elsewhere can't match, perpetuating the country's market dominance for many critical commodities," analysts from Eurasia Group said on Tuesday.
Shares of Chinese producers of the two raw materials surged by 10% on Tuesday.
Beyond China, Australian rare earths producers also advanced, as investors expected Beijing might extend export curbs to that group of strategically important minerals. Lynas Rare Earths
(LYSCF) rose 1.5%.
The United States is dependent on China for these the two critical elements. It imported more than 50% of the gallium and germanium it used in 2021 from the country, the US Geological Survey showed.
Eurasia Group analysts described China's export controls as a "warning shot."
"It is a shot across the bow intended to remind countries including the United States, Japan, and the Netherlands that China has retaliatory options and to thereby deter them from imposing further restrictions on Chinese access to high-end chips and tools," Eurasia Group said in a research note.
Chinese authorities may also intend to use its control over these niche metals as a possible bargaining chip in discussions with US Treasury Secretary Janet Yellen, who is scheduled to visit Beijing later this week.
Jefferies analysts said the timing of the announcement was unlikely to be a casual decision.
"It gives the US at least two days to digest and come up with a well-considered response," they said.
However, the move is not considered "a death blow" to the United States and its allies.
China may be the industry leader, but there are alternative producers, as well as available substitutes for both minerals, the Eurasia Group analysts pointed out.
The United States also imports a fifth of its gallium from the United Kingdom and Germany and buys more than 30% of its germanium from Belgium and Germany.
That's definitely possible, a former senior Chinese official has warned.
The curbs announced this week are "just the start," Wei Jianguo, a former deputy commerce minister, told the official China Daily on Wednesday, adding China has more tools in its arsenal with which to retaliate.
"If the high-tech restrictions on China become tougher in the future, China's countermeasures will also escalate," he was quoted as saying.
Analysts believe this too. Rare earths, which are not difficult to find but are complicated to process, are also critical in making semiconductors, and could be the next target.
"If this action doesn't change the US-China dynamics, more rare earth export controls should be expected," Jefferies analysts said.
However, analysts from Eurasia Group warned that restricting exports is a "double-edged sword."
Past attempts by China to leverage its dominance in rare earths have reduced availability and raised prices. Higher prices have spurred greater competition by making mining and processing ventures outside of China more cost-competitive, they said.
China cut its rare earths export quota in 2010 amid tensions with the United States.
That resulted in greater efforts by companies outside of the country to produce the metals. US data showed that China's global market share dropped from 97% in 2010 to about 60% in 2019.
"Imposing export restrictions risks reducing market dominance," the Eurasia Group analysts said.
CNN's Hanna Ziady and Xiaofei Xu contributed to reporting.