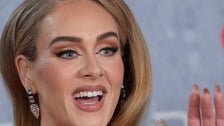 Adele is letting her voice be heard when it comes to the unsettling trend of fans chucking objects at artists onstage.
During one of her recent Las Vegas residency shows, the "All I Ask" singer had one simple request for concertgoers: "Stop throwing things."
"Have you noticed how people are like, forgetting fucking show etiquette at the moment? People just throwing shit onstage, have you seen them?" Adele asked the crowd while toting a T-shirt gun, as seen in a TikTok shared by a concert attendee.
"I fucking dare you. Dare you to throw something at me and I'll fucking kill you," she joked before smoothly shooting off a T-shirt into the roaring audience.
The 16-time Grammy winner, who was using the T-shirt gun at the time to catapult gift merchandise at her fans, then nodded to the irony of the situation.
"Stop throwing things at the artist, but you can shoot things at people," she said with a laugh.
Multiple artists, including Bebe Rexha and Kelsea Ballerini, have been struck by items fans threw at them while they were performing this summer.
Adele announced in March that she's extending her "Weekends with Adele" residency at the Colosseum at Caesars Palace in Las Vegas for an additional 34 performances. Her residency is set to wrap up on Nov. 4.