Robert F. Kennedy Jr., who is running for the Democratic nomination for president, wants to stand out from ordinary politicians. So this week he posted a video of himself doing shirtless pushups in a parking lot — you know, as potential presidents do!
The 69-year-old son of Robert F. Kennedy and nephew of former President John F. Kennedy showed off his physique in a clip that has been viewed over 15 million times. "Get yourself in shape for a Kennedy Presidency!" he tweeted.
His workout in nothing but jeans at a Gold's Gym in Venice Beach, California ― a mecca for muscleheads ― drew tons of favorable news coverage and served as an implicit contrast to 80-year-old Joe Biden, the oldest president in U.S. history.
It's debatable whether American voters are longing for a set of rippling pecs in the Oval Office. But the prominent vaccine skeptic isn't the first politician to flex their muscles as a way to boost their image or project strength to voters. For many politicians, displays of physical prowess can be a way to fend off questions about their age, set themselves apart in a crowded field, or even just make themselves seem more relatable or charismatic ― though it doesn't necessarily work.
Does anyone remember the historic candidacy of John Delaney?
The former Democratic congressman from Maryland ran for president in 2020 and tried to distinguish himself from the crowded primary field in part by sharing videos of himself doing pushups and deadlifts in tight T-shirts. Delaney was jacked as hell. But it did nothing for his campaign. He ended his run just days before the Iowa caucuses.
The desire to be seen as a musclehead over an egghead isn't limited to the younger congressional set. The longest-serving Republican senator in U.S. history, 89-year-old Chuck Grassley, has often played up his exercise habits in campaign ads.
In 2021, the Iowa Republican and then-44-year-old Sen. Tom Cotton (R-Ark.) did a 22-pushup demonstration ― though some might say they were half-pushups ― to raise awareness about suicide among military servicemembers. And in 2017, an 83-year-old Grassley challenged a much-younger reporter to a pushup contest and matched his number with 25.
But being buff doesn't bring invincibility. After winning an eighth Senate term last year, Grassley broke his hip doing what he called "a stupid maneuver in my kitchen" that briefly put him in a wheelchair. The sprightly senator is back to taking stairs at the Capitol, but recently said he's not yet running again.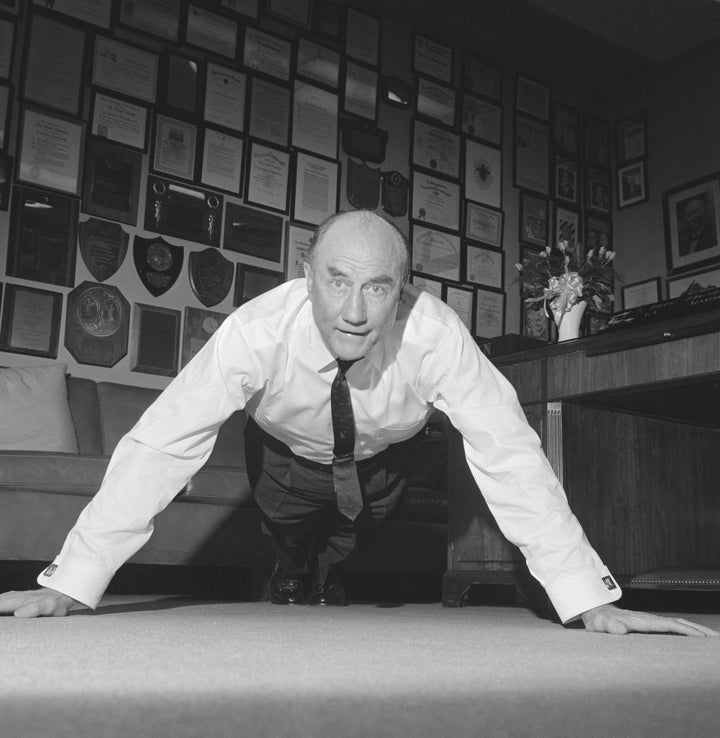 The president of the United States is another fan of proposing feats of strength when challenged over his age ― though he doesn't follow through. In 2019, during a tense exchange with an Iowa voter who told the then-77-year-old he was too old for the presidency, Biden threw down the gauntlet.
"You want to check my shape, let's do pushups together. Let's run. Let's do whatever you want to do," Biden told the man, who was 83 himself and apparently did not take up the offer from the now-president, who has a stiffened gait and has tripped and fallen in public.
The same year, Biden jokingly said he would challenge Donald Trump to a pushup match. He even suggested wrestling a HuffPost reporter in response to a question about voters' concerns over his health. "What the hell 'concerns,' man? You wanna wrestle?" (For the record: We're still waiting, Mr. President).
Other politicians simply love to share videos of themselves working out, particularly new members of Congress.
In February, Rep. Jamaal Bowman (D-N.Y.) posted a video of himself bench-pressing 405 pounds, which is a lot. He told HuffPost at the time that his eventual goal was to do the same weight for two repetitions. (It's called the House of Reps, after all.)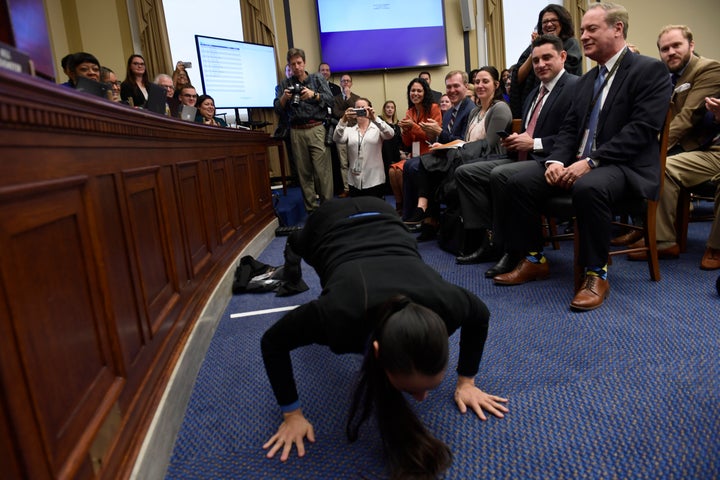 It's not just dudes, either. In 2019, Rep. Alexandria Ocasio-Cortez (D-N.Y.) posted a video of herself doing pushups alongside a fellow member as a way to blow off steam between hearings. In February, conspiracy theorist Rep. Marjorie Taylor Greene (R-Ga.) showed off some butterfly pull-ups, which look incredibly weird to anyone unfamiliar with CrossFit.
And never forget the, dare we say, iconic 2012 Time Magazine photo shoot of then-Republican vice presidential candidate Paul Ryan demonstrating some bicep curls in a backward hat with a moody blue backdrop, possibly some of the most awkward "gym bro" images of all time.
Of course, there are other ways to show your fixation on masculinity. Sen. Josh Hawley (R-Mo.) this year published a book titled "Manhood," calling on American men "to stand up and embrace their God-given responsibility as husbands, fathers, and citizens." The Missouri Republican argues masculinity isn't so "inherently problematic" as liberals make it out to be. (The book doesn't say how many pushups Hawley can do.)
As if to provide a counterpoint, Sen. Markwayne Mullin (R-Okla.) this week challenged a combative committee witness to an actual cage match. The witness, a union president who called Mullin a "greedy CEO" and a "clown," did not accept the challenge within Mullin's three-day time period, so the two will have to continue fighting with words. It's probably an improvement on the historical way of settling disputes in the upper chamber: duels with pistols.
Of course, after pride comes the fall — particularly on Twitter. Even though he looks buff, Kennedy betrayed weakness in the face of Twitter users who wondered why he seemed to struggle to do only eight-and-a-half pushups in his video.
"I can do more than 10 pushups," he assured them. "That was my last set."