The Razer Blade 14 might be compact, but its performance stands tall alongside many 15- and 16-inch gaming laptops.
About the Razer Blade 14
Here are the specs of the laptop we tested:
Price as configured: $2,700
Processor: AMD Ryzen 9 7940HS (8-core, 16-thread)
Graphics: Nvidia GeForce RTX 4070 (8GB GDDR6)
RAM: 16GB LPDDR5 5600MHz
Storage: 1TB NVMe PCIe SSD
Display: 14-inch, 2560 x 1600 IPS, 240Hz, AMD FreeSync Premium Pro
Wireless connectivity: Wi-Fi 6E, Bluetooth 5.2
Ports: 2x USB 4 Type-C with 100 watts USB Power Delivery and DisplayPort Alternate Mode, 2x USB 3.2 Gen 2 Type-A, 1x HDMI 2.1, 1x 3.5mm headphone/microphone combo
Weight: 4.05 pounds
Dimensions: 12.23 x 8.97 x 0.7 inches
Warranty: 1-year limited laptop warranty, 2-year limited battery warranty
The Razer Blade 14 I tested received an upgrade from RTX 4060 graphics to RTX 4070 graphics. This is a $300 extra, which puts the laptop's entry-level MSRP at a still expensive $2,400. Buyers can also upgrade to 32GB of RAM for an extra $100.
What we like
It's attractive and compact
The Razer Blade 14 is a slim black box, but the details help it stand out. The shade of black used by Razer is abyssal, intimidating, and immediately recognizable. It also contrasts nicely with Razer's backlit neon green logo. However, those who want a subtle look can instead choose the Mercury colorway, which offers a more generic shade of silver and replaces the neon green logo with chrome branding.
Build quality is excellent, with minimal flex along all surfaces, including the display lid, which wobbles only ever-so-slightly when the display is opened and closed. It can't beat the slate-like feel of Apple's MacBook Pro 14, but for a gaming laptop, it's way ahead of the pack. The all-metal chassis feels hefty and durable—providing the sense of weight and gravitas I expect from a high-end gaming laptop.
This gaming laptop is a little larger than its predecessor, about 0.04 inches thicker and 0.1 pounds heavier compared to its older Razer Blade 14 sibling. These are small increases, and the Razer Blade 14 remains among the slimmest, lightest gaming laptops available. It's roughly similar to the Asus ROG Zephyrus G14, which is 3.63 pounds lighter and 0.73 inches thick. The Razer Blade 14 will fit in nearly all backpacks, messenger bags, and other bags with a dedicated laptop compartment. I didn't notice the weight of the laptop when it was in my backpack alongside other items I usually carry (like notepads and a portable mouse), either.
Larger gaming laptops have their perks, but if you frequently travel or work away from your desk, you will enjoy the Blade 14's portability. A typical 15-inch laptop will prove more annoying to pack. The MSI Katana 15, for instance, weighs almost 5 pounds and measures nearly an inch thick.
Performance punches above its weight
The Razer Blade 14 might be small, but its performance is comparable to many 15- and 16-inch gaming laptops. Its AMD Ryzen 9 7940HS processor gives some ground to Razer's larger Blade 16 with Intel's Core i9-13950HX (24-core, 32-thread), but AMD holds its own.
The Blade 14 outperformed the Blade 16 in one area; it was about 25% faster in single core processing but 22% slower in multicore, according to Geekbench 6. In Cinebench R23, the Blade 14 was 9% slower in single core and 20% slower in multicore. And compared to the 2022 Razer Blade 14 with an AMD Ryzen 9 6900HX, the latest model is 40% faster in single core, 22% in multicore in Geekbench 6, and 14% faster in single core, 19% in multicore in Cinebench R23. It's also competitive with a few other gaming laptops we recently reviewed, such as the MSI Katana 15 and Asus ROG Strix SCAR 17.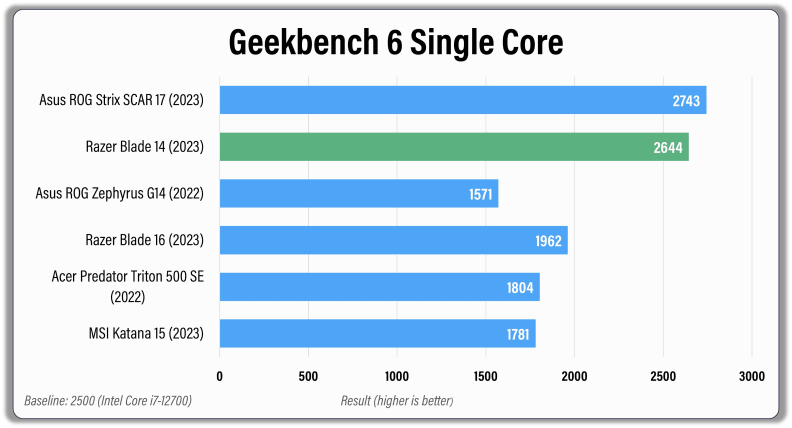 The Blade 14's gaming performance is on-par with Razer's Blade 16 and other laptops with an RTX 4070, like MSI's Katana 15 or Asus' ROG Strix G18.
Our in-game benchmarks showed the Blade 14 nipping at all their heels, which may seem obvious, as all four laptops use the same GPU, but the Blade 14's smaller size makes its speed surprising. It obtains performance similar to other RTX 4070 laptops we've tested, so shoppers who pick this laptop as a compact option shouldn't feel overly jealous of larger alternatives.
The Razer Blade 14 averaged 80 frames per second (fps) in the campaign benchmark from Total War: Warhammer III at 1080p resolution and Ultra detail. That's a virtual tie with the Blade 16, which achieved 83 fps, and even closer to the MSI Katana 15 (85 fps) and Asus ROG Strix G18 (87 fps).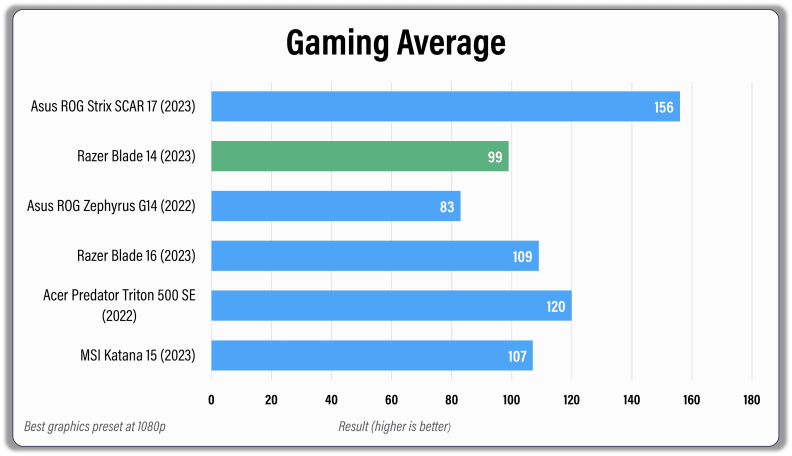 Cyberpunk 2077 provided similar results. The Blade 14 averaged 86 fps at 1080p and Ultra detail (ray tracing off)—a hair behind the Blade 16 (89 fps). The MSI Katana 15 and Asus ROG Strix G18 delivered 84 and 98 fps, respectively. Ray-tracing nearly equalized performance between all four laptops.
The Razer Blade 14 might not be the quickest gaming laptop around, but if you're worried opting for a more portable laptop might ruin your gaming experience, you can rest easy with the Blade 14.
The right kind of connectivity
The Blade 14's connectivity options show Razer understands its audience. The laptop includes two USB 4 Type-C ports that support DisplayPort and can handle up to 100W of USB power. They're flanked by two USB-A ports for connecting wired peripherals with that older plug.
Razer included a full-sized HDMI 2.1 port, which is the most recent HDMI standard. Offering HDMI alongside DisplayPort over USB-C provides versatility; the Blade 14 can handle multiple modern USB-C displays but can also connect with televisions and projectors that have the more common HDMI and/or DisplayPort connection.
The only port missing is Ethernet. It's technically available on the laptop, but only through a USB-C to Ethernet adapter or a USB-C hub with Ethernet. Not having a physical port will most likely disappoint gamers and enthusiasts who prefer a wired connection to a wireless one because it's more stable.
But most owners probably won't mind the lack of an Ethernet port; the Blade 14 supports the latest Wi-Fi 6E standard and delivered excellent Wi-Fi performance in my testing. I was able to reach download speeds equal to the maximum my Gigabit Internet connection can handle via wired Ethernet (roughly 900Mbps), so there's a minimal practical advantage to the wired connection.
Even if your home only has Wi-Fi 6, it's going to be able to sustain better download speeds up to a Gigabit Internet connection over short distances better than a wired connection can—and most people will not want to run cables through their house if they can get the same speeds over Wi-Fi.
The extras add value
The Razer Blade 14 has a 1080p webcam with a sharp, clear image that includes realistic and lifelike colors. It's not a miracle worker, so video quality will prove disappointing in a dimly lit room, but it's more than adequate for Zoom calls.
An IR camera is used to enable Windows Hello facial recognition login, and it works extremely well, providing a quick, hands-free way to log into Windows. A fingerprint reader isn't available, but given that Windows Hello facial recognition is usually quicker, I don't find this to be a problem.
A pair of upward-facing speakers line each side of the keyboard and pack a surprising punch. The audio is clear and crisp, with some low-end oomph to fill out the sound stage. Movies and games will sound better on proper desktop speakers, of course, but the built-in audio is up to the task. The speakers in Apple's MacBook Pro 14 M2 sound a tad better, but the Blade 14 has an edge against Windows competitors.
What we don't like
The display is fast but dull
The Razer Blade 14's 14-inch display delivers a resolution of 2560 x 1600 and a refresh rate of 240Hz, which is great for fast, shooting games, but Razer prioritized the display's refresh rate and response times over image quality.
Gamers will care most about motion clarity, of course, and the display does a decent job here. Motion clarity is improved compared to a 60Hz display with better legibility of small text, hit point bars, distant foes, and other fine details. This is useful for competitive gaming, but it also helps players appreciate distant scenery in most 3D games.
Its IPS display panel can't match newer OLED and Mini-LED alternatives on contrast ratio. Razer's larger Blade 16 benefits from a Mini-LED panel, so the Razer Blade 14 looks flat and one-dimensional by comparison.
The Blade 14 also suffers the dreaded IPS glow, a problem that creates a hazy, grayish look in content that should seem much darker. Games with a dark art style, like Diablo IV or Resident Evil: Village, don't look their best. It can't deliver remarkable HDR like the Mini-LED panel in the Blade 16 or Apple's MacBook Pro 14 M2 because HDR is not supported, which of course, means HDR gaming is out of the question. Brightness maxes out at 545 nits, though.
There is some good news: the display produces sharp images, as its 2560 x 1600 resolution provides a pixel density of 215 pixels per inch (ppi). That's close to a MacBook's Retina display, which provides roughly 220 ppi, and much higher than a 4K 27-inch monitor, which delivers 163 ppi. Color performance is strong, too, reaching 100% of the DCI-P3 color gamut and 89% of AdobeRGB; the Blade 14 can handle a wide variety of photography, videography, and other visual creative tasks.
I can understand why Razer decided to compromise image quality for an improved refresh rate, but the display's bland presentation is disappointing at this price.
The keyboard needs work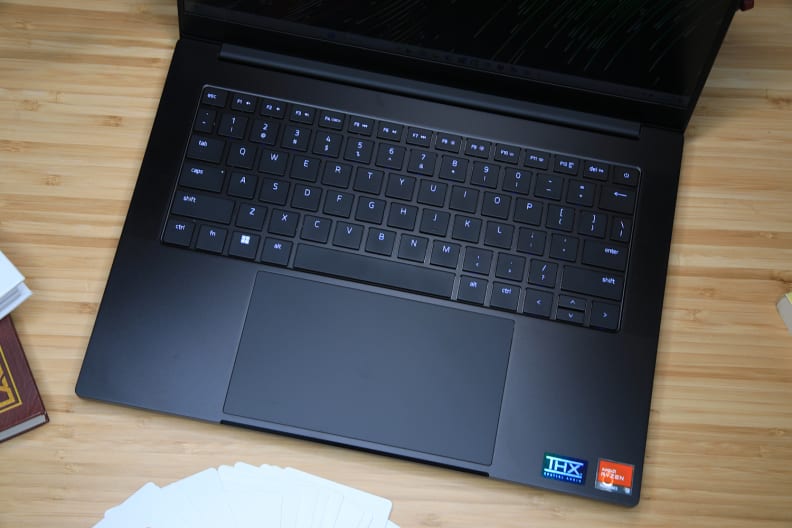 I've complained about the quality of Razer's keyboards before, and the Blade 14 is no different. It looks good at a glance thanks to its reasonably spacious layout, RGB backlit keys, and attractive design. Unfortunately, the keyboard falls short in one important metric: key feel.
Key travel is short and, more importantly, bottoms out with a clunky, wooden action that lacks a tactile feel. Many thin laptops have similar issues, but I feel that the keyboards on competitors like Lenovo's IdeaPad and Legion laptops, the Dell XPS line, and Apple's MacBook Pro, are more crisp and responsive.
There's some flex in the lower half of the keyboard. It's not a major problem, and some owners may not even notice it, but at this price point, I expect a rock-solid keyboard deck. Razer could do better here.
The touchpad works better, providing a large surface measuring 6.0 x 3.0 x 3.0 inches. That's huge for a 14-inch laptop, but I appreciate the extra space when using Windows multi-touch gestures. The touchpad also felt responsive and smooth under my fingertips, with no unintended inputs or false activations.
Battery life is just ok
The Blade 14 uses a 68.1-watt-hour battery, which isn't a large battery for a gaming laptop and, unfortunately, can't hold a charge for as long as I would have liked. The Blade 14 lasted nearly seven hours in our standard battery life test.
This, to Razer's credit, is a decent result for a gaming laptop. The Blade 14 lasts over twice as long as the Razer Blade 16 and beats both the MSI Katana 15 and the Acer Predator Triton 500 SE by about 3 to 3.5 hours. However, we've tested gaming laptops that can last about 9.5 to 10 hours, like the Asus ROG Strix G18 and MSI Delta 15, so the Blade 14 is merely average when it comes to battery life.
Still, the Blade 14's endurance is a problem. It's a light, portable laptop, so you're likely to use it away from a power outlet frequently, and 7 hours isn't enough to handle a day at the office and barely enough for a flight across America. You'll need to bring the power brick with you, adding more weight to your bag.
Those who need the Blade 14's performance will put up with that inconvenience, but those who can accept slower game performance may be happier with the Lenovo Slim 7 14, Asus Vivobook Pro 14, or Acer Swift X 14.
These alternatives are not as powerful as the Razer Blade 14 and won't perform as well in either games or content creation. However, the Blade's performance won't do you any good if the battery falls short of your needs.
Should you buy the Razer Blade 14?
Yes, it's a portable powerhouse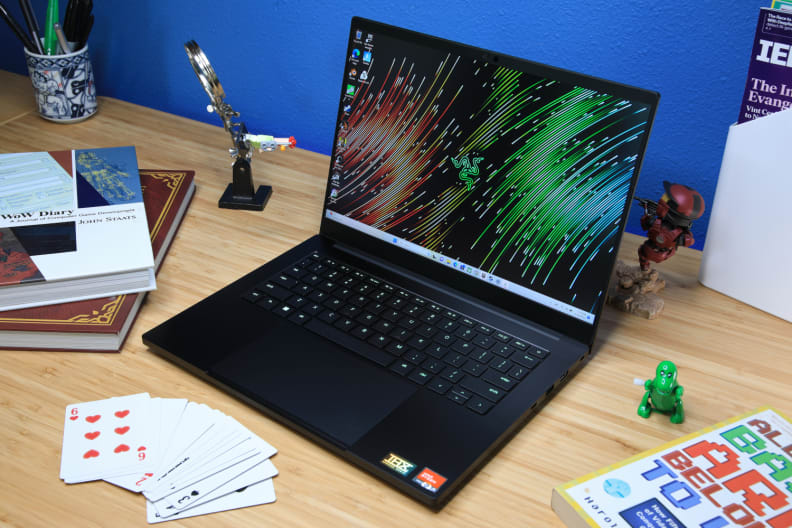 The Razer Blade 14 does suffer from a dull, disappointing display, a mediocre keyboard, and battery life that doesn't entirely live up to the promise of its compact form factor. These are unfortunate issues for a laptop that starts around $2,400 and goes up from there. But the Blade 14 has what counts: performance. It achieved benchmark results that aren't far off the Razer Blade 16 and other large laptops, especially in PC games. That's impressive for a laptop that weighs just over four pounds.
If you already or plan to frequently travel with a laptop, you'll find the Blade 14 is less annoying to pack and carry around than the Blade 16 or even a 15-inch gaming laptop like the MSI Katana 15, yet has similar performance when it's time to crack open a Mountain Dew and get to business.
In the end, the Razer Blade 14 is not hard to recommend. It's a compact gaming laptop that handles games like a big laptop, yet it's easier to stow thanks to its smaller size. There's still room for improvement, but the Blade 14 delivers the performance gamers will expect.
The product experts at Reviewed have all your shopping needs covered. Follow Reviewed on Facebook, Twitter, Instagram, TikTok, or Flipboard for the latest deals, product reviews, and more.
Prices were accurate at the time this article was published but may change over time.
Meet the tester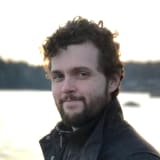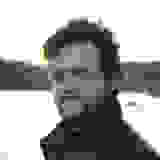 Matthew S. Smith
Contributor
Matthew S. Smith is a veteran tech journalist and general-purpose PC hardware nerd. Formerly the Lead Editor of Reviews at Digital Trends, he has over a decade of experience covering PC hardware. Matt often flies the virtual skies in Microsoft Flight Simulator and is on a quest to grow the perfect heirloom tomato.
See all of Matthew S. Smith's reviews
Checking our work.
Our team is here for one purpose: to help you buy the best stuff and love what you own. Our writers, editors, and lab technicians obsess over the products we cover to make sure you're confident and satisfied. Have a different opinion about something we recommend? Email us and we'll compare notes.
Shoot us an email