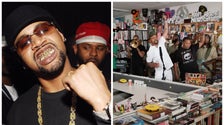 You may have thought that you didn't need to watch Juvenile perform "Back That Azz Up" in an office and accompanied by a string duet — but honestly, you really do.
In fact, this rendition of the 1998 hit is brimming with so much joy that when the New Orleans rapper performed it during NPR's Tiny Desk Concerts series Friday, the audience in the public radio station's Washington office demanded an encore. And thankfully the "T.C. soldier" complied.
"Let's go, let's do it again, fuck it!" Juvenile said before embarking on an encore of his '90s classic that was pumped so full of life that it spilled over into the crowd.
But this little slice of delight may have never happened — because Juvenile initially had zero interest in partaking in NPR's popular concert series that has seen artists like Justin Beiber, Harry Styles, Lizzo and Dua Lipa squeeze between a giant bookshelf and a few desks in the NPR's offices for a live show.
"Wtf is a tiny desk 😂and no 😂😂," Juvenile tweeted in April in response to a fan's request that he play the concert series.
The hip-hop artist's response ignited his fans on Twitter. They launched a barrage of tweets aimed at the Cash Money Records alum that begged him to change his mind.
The social media uproar seemed to pique Juvenile's interest, however, and the next day he tweeted that he'd "reconsider" doing the series if his tweet got 10,000 retweets.
Of course, it didn't take long for fans to reach that goal, and just hours later Juvenile confirmed he had secured a Tiny Desk Concert performance and vowed to deliver "a one-of-a-kind show."
Juve compiled a great team to accompany him Friday. New Orleans natives Trombone Shorty and Alvin Ford were hired for the gig, and Grammy-winning New Orleanian Jon Batiste flew in from London just to be a part of the set, NPR reported. Cash Money Records' DJ Mannie Fresh was also on hand, and Juvenile sourced DC's The Amours for background vocals along with string players from the Louisiana Philharmonic for the grand finale of "Back That Azz Up."
During his nearly half-hour set, Juvenile also performed hits like "Slow Motion," "Rodeo," "Project Bitch" and "Ha."
Needless to say, fans on Twitter absolutely loved his highly anticipated set. To see some of their responses, just scroll down.