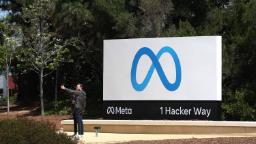 Washington
CNN
 — 

As demand for greater transparency in artificial intelligence mounts, Meta released tools and information Thursday aimed at helping users understand how AI influences what they see on its apps.
The social media giant introduced nearly two dozen explainers focused on various features of its platforms, such as Instagram Stories and Facebook's news feed. These describe how Meta selects what content to recommend to users.
The description and disclosures came in the face of looming legislation around the world that may soon impose concrete disclosure requirements on companies that use AI technology.
Meta's so-called "system cards" cover how the company determines which accounts to present to users as recommended follows on Facebook and Instagram, how the company's search tools function and how notifications work.
For example, the system card devoted to Instagram's search function describes how the app gathers all relevant search results in response to a user's query, scores each result based on the user's past interactions with the app and then applies "additional filters" and "integrity processes" to narrow the list before finally presenting it to the user.
Meta's president of global affairs, Nick Clegg, tied the company's new disclosures to a global debate about the potential dangers of artificial intelligence that range from the spread of misinformation to a rise in AI-enabled fraud and scams.
"With rapid advances taking place with powerful technologies like generative AI, it's understandable that people are both excited by the possibilities and concerned about the risks," Clegg wrote in a blog post Thursday. "We believe that the best way to respond to those concerns is with openness."
A longer blog post describing how Facebook content ranking works, meanwhile, identifies detailed factors that go into determining what information the platform presents first.
Those factors include whether a post has been flagged by a third-party fact checker, how engaging the account that posted the material may be, and whether you may have interacted with the account in the past.
Meta's new explainers coincide with the release of new tools for users to tailor the company's algorithms, including the ability to tell Instagram to supply more of a certain type of content. Previously, Meta had only offered the ability for users to tell Instagram to show less, not more, Clegg wrote.
On both Facebook and Instagram, he added, users will now be able to customize their feeds further by accessing a menu from individual posts.
Finally, he said, Meta will be making it easier for researchers to study its platforms by providing a content library and an application programming interface (API) featuring a variety of content from Facebook and Instagram.
Meta's announcement comes as European lawmakers have swiftly advanced legislation that would create new requirements for explanation and transparency for companies that use artificial intelligence, and as US lawmakers have said they hope to begin working on similar legislation later this year.