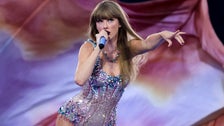 Before performing "Dear John," at her Minneapolis concert Saturday night, Taylor Swift asked her fans to show "kindness and gentleness" to anyone they think she might have written a song about.
"I'm 33 years old," Swift said Saturday. "I don't care about anything that happened to me when I was 19 except the songs I wrote and the memories we made together."
Swift is in the process of re-recording her first six albums so she can own them. On July 7, she will release "Speak Now (Taylor's Version)," a re-recording of her third studio album, which came out in 2010. On that album is the song "Dear John," which fans believe is about Swift's brief relationship with singer John Mayer.
After Swift released "Red (Taylor's Version)" and fans flooded Jake Gyllenhaal's Instagram with comments because they believed the breakup song "All Too Well" was about him, Swift is asking her fans to be kind on the internet.
"So what I'm trying to tell you," Swift continued Saturday, "is that I'm not putting this album out so that you can go and should feel the need to defend me on the internet against someone you think I might have written a song about 14 million years ago."
She then announced she would sing "Dear John" but only because she's "proud of it as a song."
Mayer told Rolling Stone in 2012 that "Dear John" "humiliated" him and made him feel "terrible." He called the song "cheap songwriting."
When asked about his response during an appearance that year on Katie Couric's talk show, Swift simply said, "Oh, come on."
It's unclear how Swift feels about Mayer and his comments now, but it seems like at least she doesn't want her fans to bully him on the internet. Swift also told fans Saturday night that she gets to witness her fans be kind to one another during each concert and watch them bond and give one another friendship bracelets.
"I was hoping to ask you that as we lead up to this album coming out, I would love for that kindness and that gentleness to extend on to our internet activities," she said.
"What I'm trying to say is I'm putting this album out because I want to own my music and I believe any artist who has the desire to own their music should be able to. That's why I'm putting out this album."