Pros
Elegant design

Long battery life

Wicked-fast SSD
The HP Dragonfly Pro competes on almost every level with some of the best sub-$2000 laptops.
About the HP Dragonfly Pro
Here are the specs of the laptop we tested:
Price as configured: $1,400
Processor: AMD Ryzen 7 7736U (8-cores, 16-threads)
Graphics: AMD Radeon 680M (integrated)
Memory: 16GB LPDDR5 6400MHz
Storage: 512GB PCIe 4.0 M.2 SSD
Display: 14-inch, 1920 x 1200, 400 nits max (rated); 407 nits max (measured), 100% sRGB, IPS touchscreen with multitouch gestures
Ports: 2 x USB-C 3.2 Gen 2 (Thunderbolt 3, power delivery, DisplayPort 1.4), 1 x USB-C 3.2 Gen 2 (power delivery, DisplayPort 1.4)
Connectivity: Wi-Fi 6E, Bluetooth 5.2
Battery: 4-cell, 64.4Wh
Weight: 3.42 pounds
Dimensions: 12.39 x 8.78 x 0.72 inches
Warranty: 1-year limited hardware
Special features: Windows Hello, fingerprint reader, dedicated keys for muting the microphone, and turning off the webcam.
We tested the HP Dragonfly Pro base model. You can add up to 32GB of RAM and 1TB of storage for a total of $1,500 ($100 more). It comes in two colors, Sparkling Black and Ceramic White.
The Dragonfly Pro should not be confused with its Chromebook cousin, which has a 12th-gen Intel Core i5-1235U and goes up to 1200 nits of brightness for $1,000.
What we like
Elegant design—with a touchscreen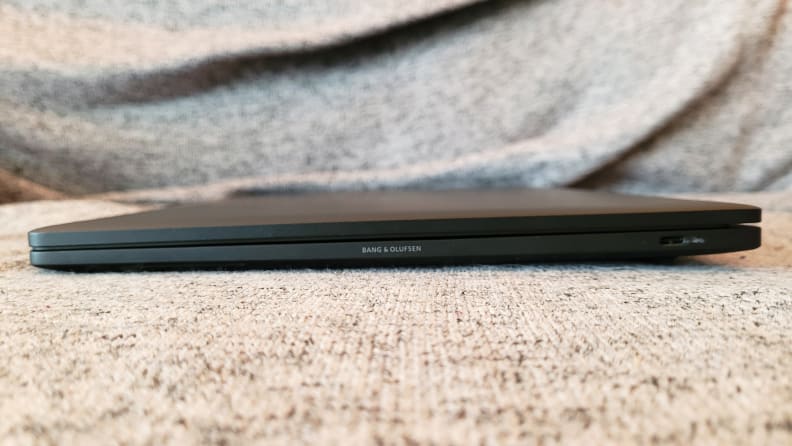 It appears HP listened to the cries of tech bloggers and Apple fans who want a touchscreen on the MacBook Air or Pro. Yes, the Dragonfly Pro is a Windows 11 machine, but also a direct competitor. Its display isn't as bright as a MacBook's Liquid Retina display, but you'll be able to work under any lighting condition.
Contrast is respectable for an IPS display, with a measured ratio of 1438:1, which means you won't see super deep and inky blacks. But if you're doing quick photo touchups or adding a new chapter to your book, the contrast ratio won't matter too much. It helps that the Dragonfly Pro's display covers 91.5% of the sRGB color gamut, as well as 84% of Adobe RGB and 73.3% of DCI-P3.
I'm skeptical of clamshell laptops with touchscreens, especially those without stylus support, but the Dragonfly Pro nails it. My first instinct is to use the trackpad to open or close a program. But my partner instinctively reached for the touchscreen; instead of a clamshell laptop, he uses an iPad Pro with an Apple Magic Keyboard.
"I wish there were a larger iPad or a MacBook with a touchscreen, but this is great," he said. Then I realized that the Dragonfly Pro is most likely going to appeal to buyers who are OS agnostic. People who use an iPad Pro instead of a laptop, but also have a Windows 11 gaming desktop, for instance. The Dragonfly Pro is a unique intersection between a tablet and a keyboard with the potential to lure iPadOS users to the Windows side.
The rest of the laptop's design is more elegant than a MacBook's: an all-black, matte chassis that's lightly textured in both appearance and feel, but with the same build quality. If you look closely, the magnesium and aluminum alloy material is full of tiny white dots that make up the "sparkle," making the black expanse feel like the night sky.
The low-profile keys are placed spaciously and depress a surprising amount for the chassis' shallow depth. This makes the keyboard more pleasant to type on; the sound is a lower, quieter thud compared to the higher-pitched clack of MacBook keyboards, and like a MacBook chassis, this one also has zero flex (although the lid flexes a tad if you grasp it with both hands and "bend" it with enough force). Even the trackpad is super smooth for a Windows laptop.
One last highlight is the Bang & Olufsen speakers, which are a staple of HP's content creation machines and sound amazing. We've previously talked about how some of the M2 MacBooks' speakers are on the thin side, but playing the same song on the HP Dragonfly Pro back-to-back with my MacBook Pro 13 M1 showcased how much richer HP's audio is. (Rob Zombie's ­"Dragula" just doesn't sound the same on a MacBook.)
Literal all-day battery life
We review a lot of laptops, so sometimes we can guess if a laptop will have long battery life depending on battery size and processor efficiency. Apple M1 and M2 chips are extremely power efficient, while Intel's 12th and 13th-gen CPUs are power-hungry despite being more power efficient than previous generations. AMD's 7000-series CPUs fall in the middle.
The Dragonfly Pro achieved 16 hours and 48 minutes in our battery test, above HP's advertised 15 hours. It's also only 20 minutes under what we measured during our MacBook Air M2 tests. It also lasts longer than every Windows laptop we've tested in the last two years—except for the 2022 Lenovo ThinkPad X13, which lasted about an hour longer thanks to its much weaker Qualcomm 8cx Gen3 processor.
We haven't reviewed HP's Dragonfly Pro Chromebook, but recent reviews that talk about its battery life (since it has a 13th-gen Intel Core i5 CPU) mention it manages between six and eight hours.
Speedy PCIe 4.0 SSD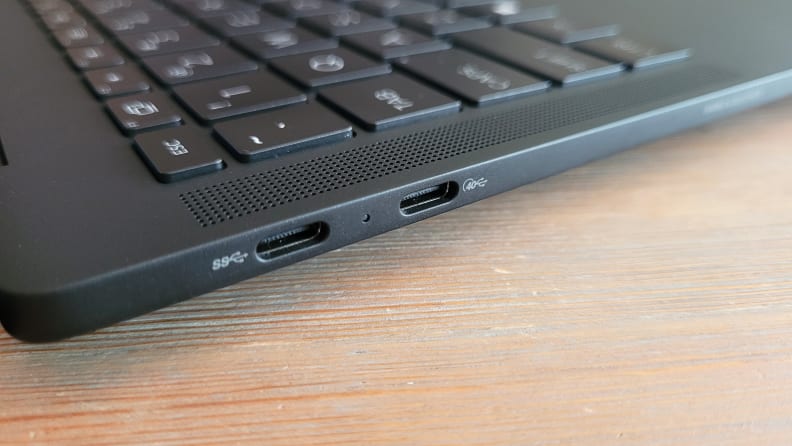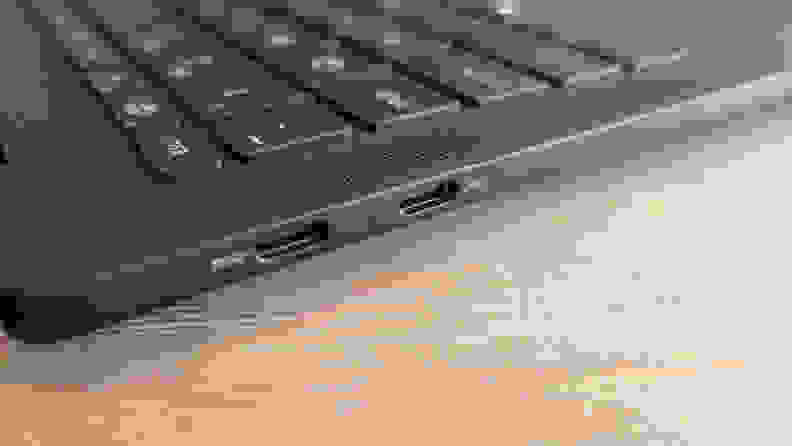 Next to battery life, fast read and write speeds are crucial for productivity laptops. As of this writing, the HP Dragonfly Pro has the third-fastest SSD we've tested out of all the laptops we've reviewed since 2022. Technically the second, since this laptop and the Lenovo Slim Pro 7 14 have near-identical read speeds of just over 7100Mb/s.
It copies data to and from your storage drive extremely fast, which can be a lifesaver when you turn in a school or work report just before the deadline.
Apple MacBooks do not even come close to matching this. The MacBook Pro 14 M2? It tops about at only about 3480Mb/s. That's a difference between two SSD generations in two current-gen laptops. Ouch.
What we don't like
The dedicated myHP keys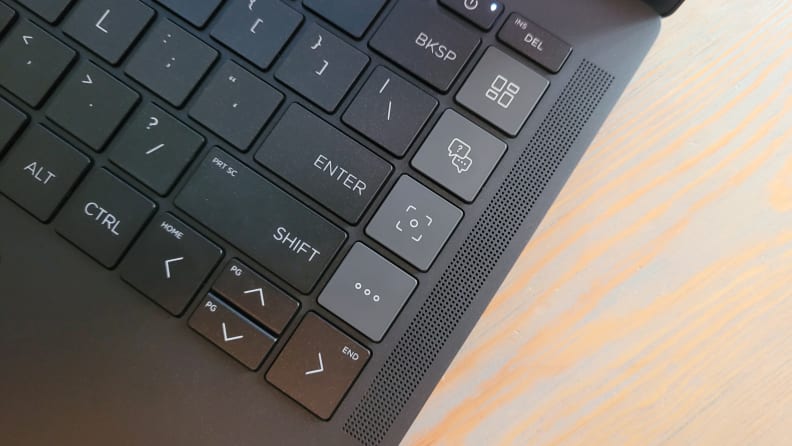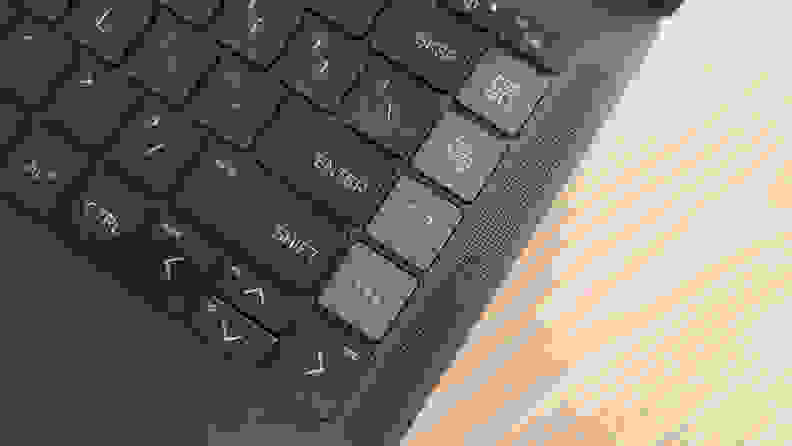 The Dragonfly Pro has four gray hotkeys at the rightmost edge of its keyboard. They stand out against the rest of the black keyboard, so there's no mistaking which will bring up the myHP app. But their placement makes building muscle memory for this keyboard frustrating, especially if you're used to a traditional desktop keyboard. It seems HP knew this when they designed the Dragonfly Pro.
Three of those four hotkeys are non-programable and are each dedicated to a separate tab within the myHP app. Yes, the Dragonfly Pro has three different keys to bring up the same program: one for the home page, one for the support page, and one to adjust a few common PC settings like audio and video (webcam).
If you're not computer savvy, I can see these keys being helpful on occasion, especially if you need to speak to tech support or customer service and have no idea how to track down their contact information. But the top key, which opens to the myHP home screen, takes up half the space where the backspace key would normally extend.
As a result, you will frequently hit that myHP hotkey when you are typing a few times. The larger your hands are, the harder it will be to hit the backspace key without looking at your finger placement; your pinky finger will naturally extend past the entire length of the backspace key.
Here's why I think HP knew there would be a long learning curve with this laptop keyboard: all four of those keys will not trigger unless you hold them down for one or two seconds. So, if you accidentally overshoot any of the keys that are directly to the left of the myHP hotkeys, nothing will happen (thank goodness).
The last key is programable from within the myHP app. You can program it to open a maximum of five programs at once, which comes in handy if you've been looking for an easy way to save time when you boot up your laptop for work in the morning.
But if all four keys were separately programable, that would have made it easier to overlook the small backspace key debacle. I can't imagine many computer-savvy people using myHP, if at all, but unfortunately you have to keep it installed if you want to use that programmable key. (Or you can download a third-party app.)
Performance for the price
Compared to Apple's M1 and M2 MacBooks, the HP Dragonfly sits in the middle of both when it comes to processor performance. In our usual benchmarks, we noticed Geekbench 6 heavily favored MacBooks (seemingly to the point of bias), so we focused on Cinebench R23 and other benchmark scores instead.
The AMD Ryzen 7 7736U is less powerful than the M2, M2 Pro, and M2 Max, but not by much–a difference of around 9% in single-core processing, at most. Compared to the M1, M1 Pro, and M1 Max, the Ryzen 7 7736U has about a 2% lead. That lined up with our browser benchmarks, too, in terms of how fast those processors could perform everyday tasks.
In practice, you might notice a small increase in speed when you open your browser or an app, but you'd have to time it with a stopwatch.
The Ryzen 7 7736U fared better in multi-core processing tasks but still fell behind the more powerful Apple Silicon chips (M2 Max, M2 Pro, M1 Max) by up to 26%. Compared to the M2, M1 Pro, and M1, this Ryzen 7 CPU is up to 34% faster. Practically, that also puts the Dragonfly Pro behind the higher-end MacBooks in tasks like 3D rendering.
In our standard Blender test, the Ryzen 7 7736U rendered an image of a BMW car in 3 minutes and 36 seconds, while the M2 Max completed the same task in 2 minutes and 24 seconds, or 47% faster. But this Ryzen chip is about 14% faster compared to the M2 chip in the new MacBook Air 15 M2—which comes with less maximum storage and memory for the same $1,500 price tag.
Finally, we have graphics. The HP Dragonfly Pro uses integrated graphics like Apple's MacBooks, but it can only best the M1 Pro and M1 according to our 3DMark Wild Life Extreme Unlimited test results. That means most MacBooks will be able to handle more graphically intensive tasks (even gaming, though the selection is more limited).
If you're a design major and need something that processes a bunch of visual information as fast as possible, then Apple's higher-end M2 chips are going to be a better choice.
But if you're more comfortable with Windows 11, the Ryzen 7 7736U's integrated 680M graphics is the fastest we've tested in a productivity laptop yet, even faster than Intel's Iris Xe graphics on its Intel Core i7-12700H by about 7.5%. Compared to the newer Intel Core i7-1360P, it's 10% faster.
Should you buy the HP Dragonfly Pro?
Yes, but try the keyboard in-store first, if possible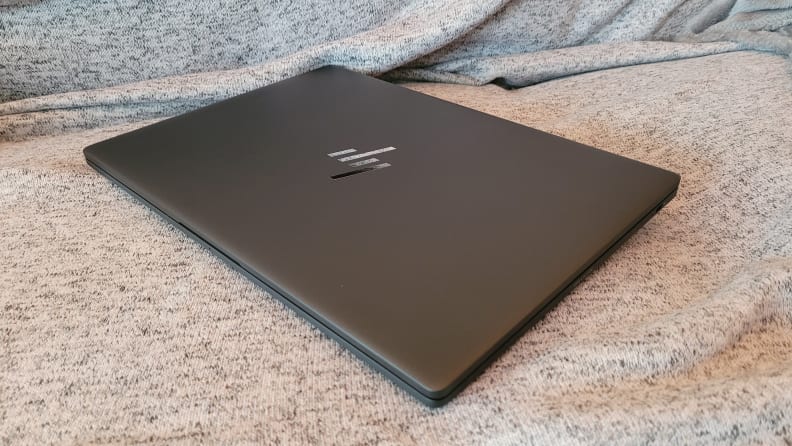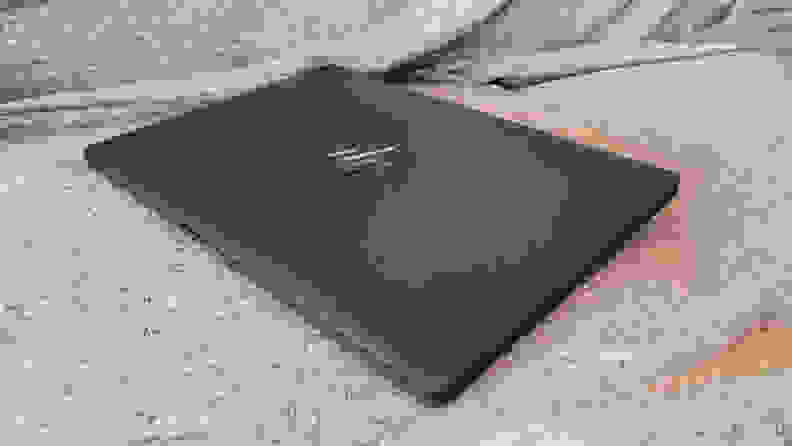 You will probably adapt to the Dragonfly's Pro keyboard faster than you think you will (I did!), but it's a jarring experience the first time you use it. The myHP keys nearly put me off the entire laptop, even when I liked so much else about it. But if you have the patience to adapt to them, then the Dragonfly Pro would have to come with a major manufacturer defect for us not to recommend it.
Hardware and performance-wise, the $1,500 Dragonfly Pro is a much better value than the new $1,499 15-inch Apple MacBook Air M2. It's the same story when you compare the $1,400 Dragonfly Pro to the $1,399 13-inch Air M2. When you start looking at a MacBook Pro 13 M2 and higher, the cost-performance ratio evens out until it makes sense for some people to get a MacBook Pro instead.
But if you're not a patient person and you like your keyboard standard and predictable, then the Dragonfly Pro is most likely not for you. You'd probably prefer Windows laptops from Dell, LG, or Lenovo if you want a laptop with the same elegant design and comparable performance for the price, but a keyboard that you can adapt to easily.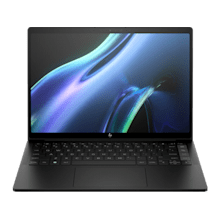 HP Dragonfly
A fantastic combination of performance and elegance that can take on Apple, Dell, and more.
Buy at HP
The product experts at Reviewed have all your shopping needs covered. Follow Reviewed on Facebook, Twitter, Instagram, TikTok, or Flipboard for the latest deals, product reviews, and more.
Prices were accurate at the time this article was published but may change over time.
Meet the tester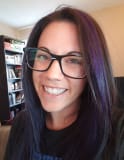 Joanna Nelius
Senior Editor, Electronics
Joanna specializes in anything and everything gaming-related and loves nerding out over graphics cards, processors, and chip architecture. Previously she was a staff writer for Gizmodo, PC Gamer, and Maximum PC.
See all of Joanna Nelius's reviews
Checking our work.
Our team is here for one purpose: to help you buy the best stuff and love what you own. Our writers, editors, and lab technicians obsess over the products we cover to make sure you're confident and satisfied. Have a different opinion about something we recommend? Email us and we'll compare notes.
Shoot us an email