Sometimes when we think about the word "dystopian," it conjures an image of something like the Earth on fire with an extraterrestrial standing next to it holding a match. Or something like "I, Robot" or "Minority Report." It's inconceivable, miserable or far outside our present day or understood reality.
That's always been what separates good dystopian stories from great ones: their proximity to reality at the time. Rod Serling's "The Twilight Zone" remains the gold standard, but creator Charlie Brooker's "Black Mirror" has always held an impressive adjacency to that iconic show.
Like its predecessor, the Netflix anthology series has never seemed too interested in projecting the future. Rather, it sees the present as the dreadful, often absurd image it already is, holding a horrifying mirror up to it.
Like the idea that a museum attraction could also be a viewing site for Black torture (the Season 4 episode "Black Museum"), or that forbidden love could only exist in a simulated afterlife (Season 3′s "San Junipero"). Or that an obsession with even a little fame could lead anyone to do just about anything for an audience (Season 1's "Fifteen Million Merits").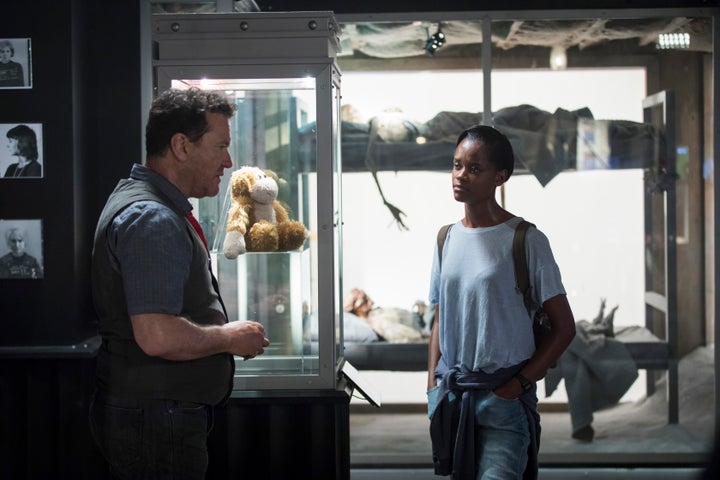 These storylines weren't just distant notions plucked from Brooker and his writing team's imaginations. They come from fears felt in the moment of their premieres, manifested from an online culture growing increasingly consumed with celebrity, racial trauma and widespread concern that love can't possibly thrive in this bleak timeline.
At its best, "Black Mirror" doesn't exclusively rely on robots, incredible tech or a "Jetsons" like utopia we might one day escape to — or perhaps run from — in telling its stories. Instead, it illuminates what's right in front of us, what's long been normalized.
Surprisingly, Brooker told GQ leading up to the show's Season 6 premiere last week that he doesn't actually get inspiration from reality: "What I tend to do instead is [think up] an idea for something that I hope doesn't happen."
Perhaps time is moving so fast that what could or will happen is already right here, because the latest episodes of "Black Mirror," dropping a long four years after the previous season, feel just as urgent as ever. They point to current issues like the threat of artificial intelligence, paparazzi mania and the media's exploitation of homicide.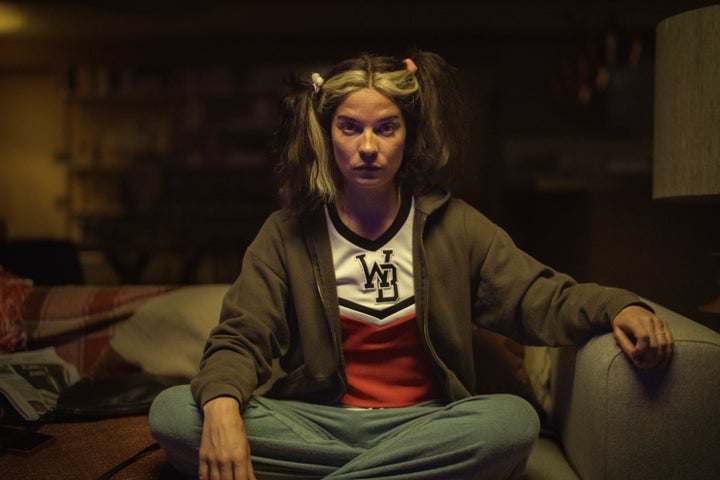 It seems like Brooker is thinking a lot about these things, since four of the five new episodes — all of which he wrote — are over an hour long. But the three that are the shortest of the batch also underscore why the series is so great.
"Joan Is Awful," directed by Ally Pankiw, introduces the season with a fast-paced, increasingly paranoid story where AI is, naturally, the central villain. Annie Murphy, most recently known for "Schitt's Creek" and "Kevin Can F**k Himself," steps into the title role as a businesswoman who is not exactly unlikable but does unsavory things.
Those include laying off her employee and sorta friend ("The Bear" star Ayo Edebiri) without any notice, and then proceeding to drop a vape pen on the ousted worker's head from an upper-floor balcony. Joan also laments her very nice yet boring fiancé, Krish (Avi Nash), who makes her terrible scrambled eggs every morning, and fantasizes about her ex (Rob Delaney).
She is already a pretty miserable person, but things get much worse for Joan when she settles on the couch to watch some TV with her lame boyfriend using the streaming service Streamberry, and right on the homepage is the show title "Joan Is Awful."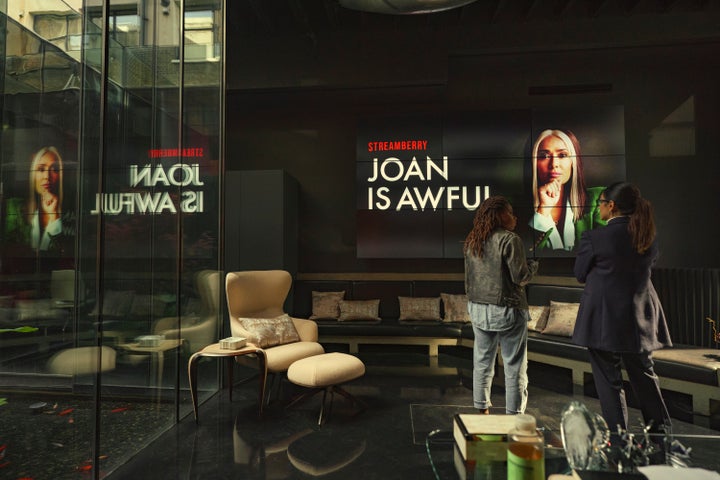 It's an AI version of her life, with the actual Salma Hayek starring as Joan — and it's as up to date as the events from right before she sat on the sofa. And just like media sensations in our world, Joan is tirelessly discussed and criticized online, and she's soon fired from her job. She rushes to find a solution to a problem she doesn't quite understand — because, who could?
Pankiw seems to breathlessly deliver an episode that most obviously castigates the perils of AI. But it more sneakily hits on other pressing concerns, like the power an audience has to help ruin the life of someone they only know through a manufactured image on a screen. Or the power that a major streamer — say, Netflix — has to use a person's likeness indefinitely for profit.
While some viewers have already written about Brooker's low-key swipe at the service that pays him, not enough are talking about how "Black Mirror" continues to reflect our own troubles — including our insatiable appetite for other people's failure.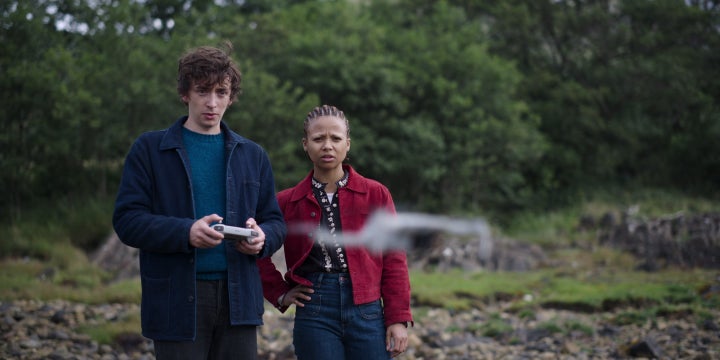 The second episode of the season, "Loch Henry," also taps in to a growing problem that many of us feed: the exploitation of murder on screen. True crime is one of the most popular subgenres of entertainment right now, and it's also ceaselessly criticized — sometimes by the same people who hunger for it.
"Industry" star Myha'la Herrold plays Pia, a filmmaker who retreats to the Scottish homeland of her boyfriend, Davis (Samuel Blenkin), to begin working with him on a new documentary. But the couple is lured into an entirely different story: his father's homicide. Right away, Pia is transfixed by the idea of it. Samuel, while understandably skeptical, accepts the film's new direction.
And of course, nothing good happens from there. Pia and Davis' research takes them down precarious paths. What might be the most frightening aspect of the whole ordeal, superbly relayed by director Sam Miller, is how successful the documentary is. Their concept immediately attracts a publicist, the film wins a BAFTA award and offers begin to roll in.
But, the episode asks, at what cost?
Exploitation remains a top concern in discussions of true crime, yet its popularity continues to rise. That's certainly not because there aren't other things to watch on TV. Audiences desire these narratives, and they continue to get made — sometimes to the dismay of their storytellers, like in "Loch Henry."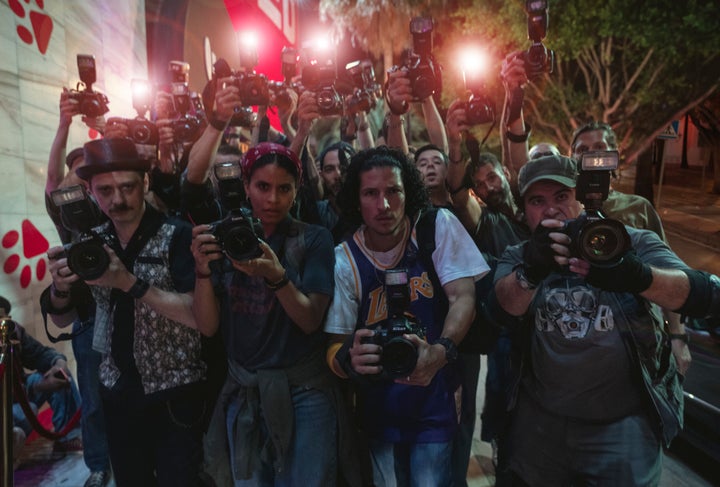 "Mazey Day" is another episode that stunningly mirrors our complicity — in this case, our participation in the mistreatment of celebrities. Clara Rugaard stars as the very popular title character, who's desperate to escape the interminable gaze of the paparazzi.
But photos of her sell for a huge sum, and shutterbug Bo (Zazie Beetz) — several months late on her rent — is equally desperate as she looks for a payday.
Director Uta Briesewitz sets up a tale of two protagonists who are readily identifiable for viewers in our celeb-obsessed world. Both Mazey and Bo are trapped in their own type of prison, and one cannot be fed without the other: Mazey's popularity needs Bo's industry to propel her, and Bo quite literally needs to buy food with a photo of Mazey.
Meanwhile, Mazey's fans demand access to her and what she's doing at all times, just like in real-world parasocial relationships. But it's how Brooker concludes this story that leaves the most bone-chilling impact of the season. It's truly exceptional.
The two other new episodes, "Beyond the Sea" and "Demon 79," though well performed and theoretically interesting, ultimately fall flat. Part of that is because both are nearly the length of feature films, but also because they somehow feel bloated and empty at the same time.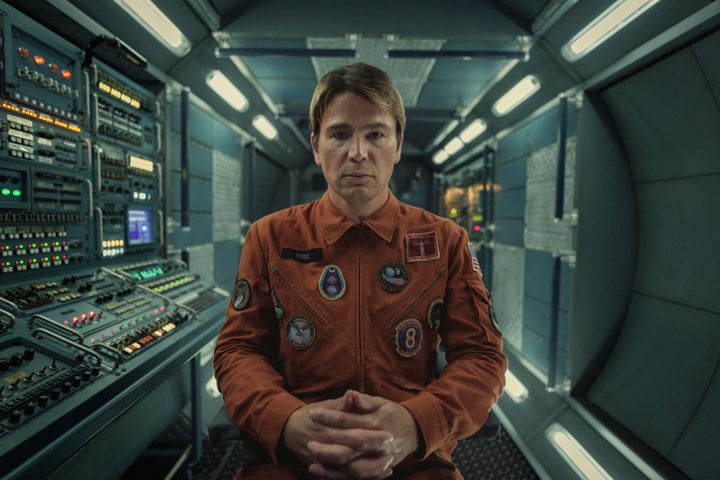 Kate Mara, Aaron Paul and Josh Hartnett all star in the molasses-slow, 80-minute "Beyond the Sea." The story, set in 1969, explores the tragic events that unfold after the family of astronaut David (Hartnett) is murdered while he's on a mission with fellow pilot Cliff (Paul). Mara plays Cliff's wife, Lana, who agrees to help assuage David's grief by allowing him to take over her husband's body so that he can feel the love of a family again.
The story doesn't move at nearly the pace of the season's three standout episodes. The conflict that ensues from mixing love and grief always simmers beneath the surface, but once it bubbles over, it's barely a splatter. The editing isn't especially tight, and director John Crowley doesn't get very inspired performances from an otherwise terrific cast.
While the consistent threat of technology hovers over "Beyond the Sea," it's not an episode that brings the audience into it. By the time it finally ends, you'll be relieved.
The same goes for "Demon 79," which has the buoyancy of "Joan Is Awful" but none of its sharpness.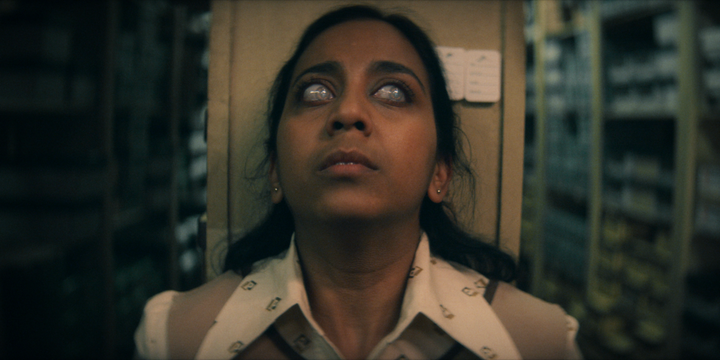 Toby Haynes directs the episode, which follows a Singaporean British sales assistant, Nida (Anjana Vasan), in 1979. She receives a visit from the demon Gaap ("I May Destroy You" star Paapa Essiedu), who tells her she must kill three people to avoid Earth's eternal damnation.
Of course, she doesn't believe him and rejects his request. But, well, you can't really escape a hellish creature like Gaap. In one of the episode's best scenes, Nida tries in vain to flee from him — but he always ends up right in front of her, no matter where she turns.
Nida then taps in to her experiences with racism, a villain she's all too familiar with, to propel her to commit murder. Mayhem ensues.
"Demon 79" doesn't ask about the cost of her actions, like "Loch Henry" does. Nor does it really ask any questions at all. And the story is just way too on the nose and uninspired for a "Black Mirror" episode. It leans on the horror, but is incurious about it or what it says about the character or us.
That's typically been the sweet spot of the series. Brooker's stories have benefited from not offering prescriptions or answers to moral quandaries. "Black Mirror" is the show that has always presented a cracked yet crystal image of who we are and where we are, for better and worse.