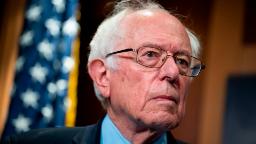 CNN
 — 

Sen. Bernie Sanders on Tuesday launched a Senate investigation into working and safety conditions at Amazon warehouses, adding to federal scrutiny on the labor practices of one of the country's largest employers.
Sanders, the chairman of the Senate committee on health, education, labor and pensions, also unveiled a website where Amazon workers can submit stories about their experiences at the company to help inform the investigation.
"The company's quest for profits at all costs has led to unsafe physical environments, intense pressure to work at unsustainable rates, and inadequate medical attention for tens of thousands of Amazon workers every year," Sanders wrote in a letter to Amazon CEO Andy Jassy announcing the probe.
Over the years, some Amazon workers have described the "grueling" experience of long hours racing around warehouses that can be the size of 28 football fields while the company tracks their every move.
Sanders has been one of Amazon's most vocal and high-profile antagonists. He has sparred with the company over its labor practices and joined a rally of workers looking to unionize one of its facilities. In 2018, following heavy criticism from Sanders, Amazon announced it was raising its minimum wage for US employees to $15 an hour.
In his letter Tuesday, Sanders argued that Amazon warehouses "are uniquely dangerous," and cited recent citations from the Labor Department's Occupational Safety and Health Administration against Amazon.
After inspecting three Amazon warehouse facilities, OSHA issued hazard letters in January related to injury risks from workers lifting packages. An Amazon spokesperson at the time said the company "strongly" disagrees with OSHA's claims and intends to appeal.
Sanders also cited a report from a group of labor unions that said Amazon's rate of serious injuries at warehouses was more than double the rate at non-Amazon warehouses, as well as "concerning stories from workers around the country about the toll that working at Amazon warehouses takes on their bodies." (Amazon said it disputes how the data in the labor unions' report characterizes serious injury rate.)
Steve Kelly, an Amazon spokesperson, told CNN that the company "reviewed the letter and strongly disagree with Senator Sanders' assertions."
"We take the safety and health of our employees very seriously," Kelly, the Amazon spokesperson, said in a statement. "There will always be ways to improve, but we're proud of the progress we've made which includes a 23% reduction in recordable injuries across our U.S. operations since 2019. We've invested more than $1 billion into safety initiatives, projects, and programs in the last four years, and we'll continue investing and inventing in this area because nothing is more important than our employees' safety."
Sanders also has an open invitation to come tour one of its facilities, the company said.