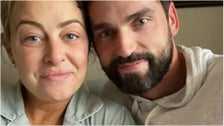 "Love is Blind" alum Jessica Batten is now a mom.
On Saturday, the Netflix star and her husband, Benjamin McGrath, announced on Instagram that they have welcomed their first child together.
"Meet Dax," the reality actor captioned the carousel of photos of her family with the adorable newborn. She also wrote, "June 9, 2023," revealing the date her baby boy was born.
Baby Dax marks the couple's first child together. Batten and McGrath also share two children from his previous relationship: daughter Poppy, 7, and son Ethan, 6.
Back in October 2021, just a month after the couple got engaged, Batten opened up about being a stepmom to McGrath's children.
"It's been awesome and three for the price of one for me," Batten told People. "I didn't know this would be in my future, but I couldn't imagine my life without them. They're so super special to me."
She added: "It's a lot of sacrifice, but it's so rewarding. After being by myself for so long, or just me and [my dog] Payton, now having them, it's just a whole different perspective."
Batten isn't the first "Love is Blind" alum to welcome a baby. In April, Season 3 star Bartise Bowden announced on Instagram that he welcomed his first child.
"Might've been the villain on tv, but I'm gonna be the hero for him. Instagram, meet my little man," the 27-year-old, wrote alongside a series of snapshots and videos introducing his son to the world.
"Love is Blind" is streaming on Netflix.