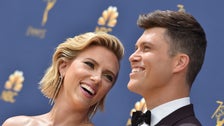 "We laugh a lot and we always, you know, we communicate with one another and check in," the actor explained during an appearance on "CBS Mornings" on Monday. "I'm married to a writer, he's a comedy writer [and] he can get very in his head sometimes."
"He's sort of introverted ― I'm extroverted, obviously ― and so I think the key for us is just always checking in," Johansson said, adding that the two make time to ask about each other's days.
The "Black Widow" star and the "SNL" writer tied the knot in 2020. Before Jost, Johansson was married to fellow actor Ryan Reynolds and to French journalist Romain Dauriac.
Johansson previously said that before marrying Jost, she "didn't know not only what I wanted, but what I needed from somebody else."
"There are certain fundamental things in your own personality I needed to share with the other person," the actor said during an interview with Gwyneth Paltrow for her Goop podcast earlier this year.
"I never realized, oh, it's really important for me — like, I need to be with a compassionate person," the "Marriage Story" actor said at the time. "That's like a fundamental characteristic that has to be there."