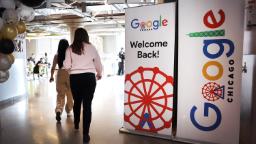 CNN
 — 

Three years after Silicon Valley companies led the charge for embracing remote work in the early days of the pandemic, the tech industry is now escalating the fight to bring employees back into the office -— and igniting tensions with staff in the process.
Google, which has long been a bellwether for workplace policies in the tech industry and beyond, frustrated some employees this week by announcing plans to begin more strictly enforcing its policy that requires workers in-office at least three days a week. The updated policy includes tracking office badge attendance and possibly factoring it into performance reviews, according to CNBC, citing internal memos.
"Overnight, workers' professionalism has been disregarded in favor of ambiguous attendance tracking practices tied to our performance evaluations," Chris Schmidt, a software engineer at Google and member of the grassroots Alphabet Workers Union, told CNN in a statement. "The practical application of this new policy will be needless confusion amongst workers and a disregard for our various life circumstances."
In a statement, Ryan Lamont, a Google spokesperson, told CNN that its policy of working in the office three days a week is "going well, and we want to see Googlers connecting and collaborating in-person, so we're limiting remote work to exception only."
Lamont said that company leaders can see reports showing how their teams are adopting the hybrid work model, including "aggregated data" on badge swipes. He added that now that the company is more than a year into its hybrid model, "we're formally integrating this approach into all of our workplace policies."
Google isn't alone in facing pushback from employees. Other tech companies are also grappling with how best to compel workers to come into the office after they've grown accustomed to greater flexibility. The tug-of-war is compounded by the fact that tech companies have laid off tens of thousands of employees over the past year, leveling a major blow to employee morale.
At Amazon, tensions boiled over last week as hundreds of office workers staged a walkout to call attention to their grievances, including the three-day return-to-office mandate that was implemented in May.
A current Amazon worker who spoke at the walkout said that she started an internal Slack channel called "remote advocacy" because she wanted a space where workers could discuss how the new return-to-office policy would impact their lives.
"Before I realized what was happening, that channel had 33,000 people in it," the worker, who identified only as Pamela, said to the crowd at the event. Pamela called the Slack channel advocating for remote work "the largest concrete expression of employee dissatisfaction in our entire company history."
But the employee criticism isn't stopping tech companies, who have spent billions on sprawling campuses over the years and often preach the value of serendipitous workplace interactions, from moving forward with their return to office policies.
In response to the walkout, Amazon previously told CNN it may "take time" for some workers to adjust to being in the office more days. But the company also said it's "happy with how the first month of having more people back in the office has been" and touted the extra "energy, collaboration, and connections happening" in the office.
Facebook-parent Meta similarly doubled down last week on its push to get workers in the office, warning that employees currently assigned to an office must return to in-person work three days a week starting this September. (A Meta spokesperson told CNN the updated policy was not set in stone, and employees designated as remote workers will be allowed to keep their remote status).
At least one tech company is taking a gentler approach.
Salesforce is trying to lure staff into offices by offering to donate $10 to a local charity for each day an employee comes in from June 12 to June 23, according to an internal Slack message reported on by Fortune.
A Salesforce spokesperson told CNN: "Giving back is deeply embedded in everything we do, and we're proud to introduce Connect for Good to encourage employees to help us raise $1 Million+ for local nonprofits."
But it might take more than temporary charitable contributions to convince some workers it's worthwhile to return. Schmidt, the software engineer at Google, said that even if you go into the office, there's no guarantee you'll have people on your team to work with or even a desk to sit at.
"Many teams are distributed, and for some of us there may not be anyone to collaborate with in our physical office locations," Schmidt said. "Currently, New York City workers do not even have enough desks and conference rooms for workers to use comfortably."
"A one size fits all policy does not address these circumstances," he added. "We deserve a voice in shaping the policies that impact our lives to establish clear, transparent and fair working conditions for all of us."