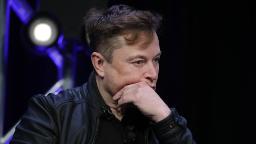 CNN
 — 

For months, Twitter owner Elon Musk and his allies have amplified baseless claims that the US government illegally coerced Twitter into censoring a 2020 New York Post article about Hunter Biden. The foundation for those claims rests on the so-called "Twitter Files," a series of reports by a set of handpicked journalists who, at Musk's discretion, were given selective access to historical company archives.
Now, though, Twitter's own lawyers are disputing those claims in a case involving former President Donald Trump — forcefully rejecting any suggestion that the Twitter Files show what Musk and many Republicans assert they contain.
In a court filing last week, Twitter's attorneys contested one of the most central allegations to emerge from the Twitter Files: that regular communications between the FBI and Twitter ahead of the 2020 election amounted to government coercion to censor content or, worse, that Twitter had become an actual arm of the US government.
In tweets last year, Musk alleged that the communications showed a clear breach of the US constitution.
"If this isn't a violation of the Constitution's First Amendment, what is?" he said of a screenshot purportedly showing Joe Biden's presidential campaign in 2020 asking Twitter to review several tweets it suggested were violations of the company's terms. Some of the tweets in question included nonconsensual nude images that violated Twitter's policies.
In another push to promote misleading allegations of government malfeasance stemming from the Twitter Files, Musk also claimed that the "government paid Twitter millions of dollars to censor info from the public."
Legal experts have said the claim of a constitutional violation is weak because the First Amendment binds the government, not political campaigns, and Trump was president at the time, not Biden. The Twitter Files also show the Trump administration made its own requests for removal of Twitter content. And the payments to Twitter have also been identified as routine reimbursements for responding to subpoenas and investigations, not payments for content moderation decisions.
"Nothing in the new materials shows any governmental actor compelling or even discussing any content-moderation action with respect to Trump" and others participating in the suit, Twitter argued.
The communications unearthed as part of the Twitter Files do not show coercion, Twitter's lawyers wrote, "because they do not contain a specific government demand to remove content—let alone one backed by the threat of government sanction."
"Instead," the filing continued, the communications "show that the [FBI] issued general updates about their efforts to combat foreign interference in the 2020 election."
The evidence outlined by Twitter's lawyers is consistent with public statements by former Twitter employees and the FBI, along with prior CNN analysis of the Twitter Files.
Altogether, the filing by Musk's own corporate lawyers represents a step-by-step refutation of some of the most explosive claims to come out of the Twitter Files and that in some cases have been promoted by Musk himself.
Twitter did not immediately respond to a request for comment.
Even as the filing undercuts Musk's effort to portray the Twitter Files as a smoking gun, the filing may still work to his benefit because, if successful, it may save Twitter from a costly re-litigation of its handling of Trump's account and others.
The communications in question, some of which also came out in a deposition of an FBI agent in a separate case, were invoked last year as part of a bid to revive litigation over Twitter's banning of Trump following the Jan. 6 attack on the US Capitol. The lawsuit had been dismissed last summer, after the federal judge overseeing the case said there was no evidence of a First Amendment violation.
Musk's release of company files has given lawyers for Trump and other plaintiffs in the case another shot. If the court decides the new evidence is enough to suspend the prior judgment, the lawyers for Trump and others said in May, then they might decide to file a fresh amended complaint.
But Twitter argued last week that the judge should not allow the case to be reopened because nothing in the Twitter Files supports the already dismissed claim of federal coercion.
Even the FBI's flagging of specific problematic tweets were merely suggestions that they might violate Twitter's terms of service, not a request that they be removed or an implication of retribution if Twitter failed to take the tweets down, Twitter's lawyers said.
Citing another case, Twitter wrote: "The FBI's 'flags' cannot amount to coercion because there was 'no intimation that Twitter would suffer adverse consequences if it refused.'"
Twitter also objected to the claim, amplified by Musk, that Twitter was paid to censor conservative speech when it sought reimbursement for complying with government requests for user data.
"The reimbursements were not for responding to requests to remove any accounts or content and thus are wholly irrelevant to Plaintiffs' joint-action theory," Twitter wrote.
It added: "The new materials demonstrate only that Twitter exercised its statutory right—provided to all private actors—to seek reimbursement for time spent processing a government official's legal requests for information under the Stored Communications Act. The payments therefore do not concern content moderation at all—let alone specific requests to take down content."