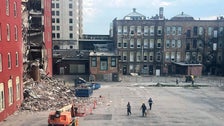 DAVENPORT, Iowa (AP) — The body of one of three men who had been missing after the partial collapse of an apartment building in Davenport, Iowa, has been found, a city official confirmed Sunday.
Branden Colvin Sr.'s body was recovered Saturday, city spokeswoman Sarah Ott said. Two other men — 51-year-old Ryan Hitchcock and 60-year-old Daniel Prien — are still unaccounted for. Colvin, 42, is the first person confirmed to have died in the collapse.
No other details were immediately released.
The Quad-City Times reported that Colvin's son, Branden Colvin Jr., graduated from high school Saturday. He and other family members had been at the collapse site almost constantly, hoping for a miracle.
The discovery of Colvin's body came a day after authorities announced that the search for survivors had been completed, with attention turning to shoring up the structure so recovery efforts could begin.
The remains of the six-story apartment building were constantly in motion in the first 24 to 36 hours after it collapsed on May 28, which officials said posed a risk to rescuers who were trying to search for survivors.
City officials had said earlier that Colvin, Hitchcock and Prien had "high probability of being home at the time of the collapse."
Authorities have said that searching the building was extremely dangerous — and that it was constantly shifting and at risk of further collapse, putting rescuers at great risk. An Iowa task force completed a search for survivors on Thursday and began focusing on shoring up the structure for recovery efforts.
"We are doing the best we can to balance the building conditions and the safety of our responders," Fire Chief Mike Carlsten told reporters during a briefing after the collapse. He said conditions have forced a response that may take "days and weeks" instead of what ideally would have been minutes or hours.
Mayor Mike Matson has said the debris pile "could be a place of rest for some of the unaccounted."
Work to bring down the building was moving forward amid questions about why neither the owner nor city officials warned residents about potential danger even after a structural engineer's report issued just days before the collapse indicated a wall of the century-old building was at imminent risk of crumbling.
Documents released by the city show that city officials and the building's owner were warned for months that parts of the building were unstable.
Tenants also complained to the city in recent years about a host of problems they say were ignored by property managers, including no heat or hot water for weeks or even months at a time, as well as mold and water leakage from ceilings and toilets. While city officials tried to address some complaints and gave vacate orders to individual apartments, a broader evacuation was never ordered, records show.
Current and former residents told The Associated Press about interior cracks on the wall that ultimately collapsed that were reported to building management.
Andrew Wold, the building's owner, released a statement dated May 30 saying "our thoughts and prayers are with our tenants." He has made no statement since then, and efforts to reach him, his company and a man believed to be his attorney have been unsuccessful.
County records show Davenport Hotel L.L.C. acquired the building in a 2021 deal worth $4.2 million.