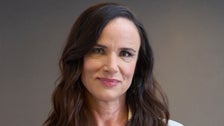 Juliette Lewis is thanking her "Yellowjackets" work family after Sunday's tragic season finale.
The veteran actor on Monday posted an Instagram carousel of six photos from the production of Season 2's shocking closer. Lewis, who portrays adult Natalie in the series, wrote she is "beyond moved by the appreciation of my work."
"Love respect & appreciation is the oil in this creative machine and the encouragement I always need," wrote Lewis, adding: "I will and can continue creating despite the challenges of this industry, with it's breakneck hours & the pressure cooker expectations."
She continued: "The exceptional writing on @Yellowjackets I believe this team can literally do and write anything, the chemistry and exquisite talent of this phenomenal — ever growing — cast is something I will always marvel at. And the phenomenon that is @soapy.t."
Those following the show, which centers on a high school soccer team fighting for their lives after their plane crashes in the wilderness, have surely noticed how well that phenomenon — Sophie Thatcher — has portrayed the younger version of Lewis' character.
"You already know," Lewis wrote, tagging Christina Ricci, Melanie Lynskey, Simone Kessell, Lauren Ambrose and Tawny Cypress. "You all have my heart. To My Team who sometimes knows-gets what I need before I do. You are family. Until we meet again."
Warning: Spoilers for "Yellowjackets" below!
Lewis' candid photos captured a quiet chat with director Karyn Kusama and a goofy time with Ricci. They also showed Lewis in her final scene. Natalie, who was accidentally given a fatal dose of phenobarbital by Ricci's character Misty, was mourned by fans online.
"RIP Natalie Scatorccio. 1979-2021," one person tweeted. "Never afraid to speak her mind, stand up for herself and do whatever she could to survive. After The Wilderness, she struggled with addiction and the guilt she harbored … Yet her loyalty … was unwavering."
The show has captivated viewers with its harrowing contrast between cannibalistic survival in the woods and the processing of that trauma decades later. Set in the 1990s and in the modern day, "Yellowjackets" is both grisly and hilarious. Sunday's finale was simply tragic.
"You won't be surprised to hear that I'm crying," wrote Lynskey in the comments of Lewis' post. "I love with all my heart and the respect I have for you is gigantic."
"Love you so much," wrote Ricci.
Natalie's death, which came after the friend group reunited in the great outdoors to make a sacrifice to "it," has since spurred a barrage of frustrated tweets from viewers who related to her trauma, resilience and lifelong substance abuse issues.