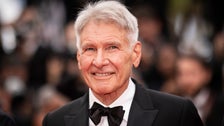 Harrison Ford has "still got it" — according to one very excited reporter.
The 80-year-old star arrived at the Cannes Film Festival this week to premiere "Indiana Jones and the Dial of Destiny" and got visibly emotional by the warm welcome. Little did he know that things would get even warmer at Friday's press conference for the film.
"Look, I think you're still very hot," an unidentified female reporter told Ford. "And we were stunned to see you take your shirt off in the second scene. I mean, it's just — and you've still got it — I mean, how do you keep fit? And can you ride a horse?"
Flanked by his co-star Mad Mikkelsen, who plays the film's primary Nazi antagonist, and director James Mangold — who's been saddled with the reins of Steven Spielberg's beloved franchise — Ford repeatedly closed his eyes as if genuinely taken aback.
His playful demeanor, meanwhile, revealed a familiarity with such compliments.
"What was the last part?" Ford said while chuckling. "Let me tell ya, yeah — I can ride a horse if they let me! Thank you for your [question]. I didn't mean to be cruel. I forgot everything up to 'ride a horse.'"
Mangold helpfully chimed in over the crowd's raucous laughter and reminded Ford that "she also asked how you stay in shape," but that "Mads kind of answered that with his 'Olympian' story.'" Mikkelsen had indeed quite publicly praised Ford's athleticism last year.
"He's an insanely powerful person," Mikkelsen told The Hollywood Reporter in 2022. "Not just as an actor, but physically."
"I remember the first day we were shooting, it was a night shoot, then we stopped at 5 a.m. — and then he got on his mountain bike and went biking for 50 kilometers [31 miles]. Harrison is a monster of a man, a very nice monster."
Reminded of this at Cannes, Ford tried hard to dispel that myth. When he told the reporter that this story was "bullshit" but also "very kind," a baffled Mikkelsen cheekily asked Ford: "You just brought the bike for fun?"
"There's a partial truth there," said Ford about the story before playing things up and hilariously fidgeting with his fingers while answering the reporter. "Look, I have been uhh…I've been blessed with this body. Thanks for noticing."
The fifth film and the first entry in the franchise since "Crystal Skull" was panned in 2008 and currently sits at 52% on Rotten Tomatoes. Whether its June 30 release will prove critics wrong remains to be seen, though the price of admission might be worth that "second scene" alone.