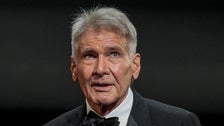 Harrison Ford fought back tears as he received a five-minute ovation at the Cannes Film Festival following the premiere of "Indiana Jones and the Dial of Destiny" on Thursday night.
The 80-year-old film icon, who received an honorary Palme d'Or, appeared to choke up after the crowd took in the upcoming installment in the adventure franchise before its theatrical release next month.
Thierry Fremaux, director of the Cannes Film Festival, introduced a compilation of Ford's career highlights before festival president Iris Knobloch took the stage to honor the actor with the award, according to The Hollywood Reporter.
"I'm very moved by this. They say when you're about to die, you see your life flash before your eyes and I just saw my life flash before my eyes – a great part of my life but not all of my life," said Ford after the highlights aired.
The actor went on to remark how his life has been "enabled" by his wife Calista Flockhart due to her support for his passion and dreams before he addressed the Cannes crowd.
"I love you, too. Thank you. You've given my life purpose and meaning, and I'm grateful for that," he said before shouting out "Dial of Destiny" director James Mangold along with actors Phoebe Waller-Bridge and Mads Mikkelsen.
The fifth "Indiana Jones" film marks the first time that Steven Spielberg hasn't directed a film in the franchise as well as the first time that "Star Wars" creator George Lucas didn't write a story for an "Indiana Jones" film.
The two, instead, are executive producers on the new film which Ford has acknowledged will be his last hurrah as its titular character.
Ford, in an interview with Total Film Magazine, added that he "will not be involved in" an "Indiana Jones" TV series that's reportedly in development for Disney+.