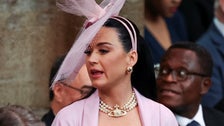 Katy Perry was left visibly confused at Saturday's coronation of King Charles III.
The "California Gurls" singer was one of several celebrities to attend the momentous occasion at London's Westminster Abbey but appeared to be the only one unable to find her seat. The endearing moment, captured on live television, has since gone hilariously viral.
"Katy Perry not finding her seat is so me," tweeted one person, while another wrote: "Katy Perry searching for her seat at the coronation is the perfect US representative" — and another joked that her struggle was "the equivalent vibe of us trying to find our parents in the supermarket."
Unlike notable artists who reportedly turned the opportunity down, Perry and Lionel Richie graciously accepted the royal family's offer to sing at Sunday's coronation concert. Meanwhile, the speed at which she went viral on Saturday hasn't escaped the pop star.
Perry arrived entirely in lilac, donning a short-sleeved jacket and gloves that matched her dress. While she wore a rather sizable hat to boot, the accessory didn't cause any problems or become viral memes — unlike those of some other attendees on Saturday.
The "American Idol" judge ultimately managed to find her seat and witnessed the first British coronation since Queen Elizabeth II's in 1953. As it was also the second televised coronation, however, all eyes were on the attendees — and Perry's brief disorientation.
Fortunately for Perry — who'll join British boy band Take That, Italian opera legend Andrea Bocelli and Welsh singer Bryn Terfel on Sunday — she'll probably be standing during her performance.