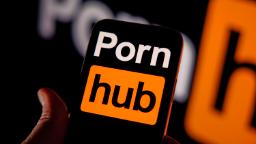 CNN
 — 

Some of the internet's biggest adult websites, including Pornhub, are now blocking access to Utah users over a new age verification law that takes effect on Wednesday.
Pornhub and other adult sites controlled by its parent, MindGeek, began blocking visitors with Utah-based IP addresses this week. Now, instead of seeing adult content when visiting those sites, affected users are shown a message expressing opposition to SB287, the Utah law signed by Gov. Spencer Cox in March that creates liability for porn sites that make their content available to people below the age of 18.
"As you may know, your elected officials in Utah are requiring us to verify your age before allowing you access to our website," the message said. "While safety and compliance are at the forefront of our mission, giving your ID card every time you want to visit an adult platform is not the most effective solution for protecting our users, and in fact, will put children and your privacy at risk."
The statement, accompanied by a video of an adult actor reading the message on-camera, added that the age verification requirement could drive users "to sites with far fewer safety measures." And it called for policymakers to "identify users by their device" rather than by requiring them to upload their photo ID.
"Until a real solution is offered, we have made the difficult decision to completely disable access to our website in Utah," the message said, concluding with a call for Utahns to "demand device-based verification solutions" from policymakers.
Pornhub declined to comment on its actions in Utah beyond the message it posted to users in the state, and it also declined to address the likelihood of attempts to circumvent the IP address filtering.
Porn sites aren't the only ones to face calls for age verification. State and federal lawmakers have increasingly pushed to mandate a minimum age for social media use, too. Last week, US senators proposed a nationwide ban on social media use for children under 13. Age requirements for social websites have also been approved in Arkansas.
But porn is often a bellwether for how content and technologies may be regulated. In Louisiana, one of the country's first age requirements for adult websites went into effect in January.
Pornhub, which says it receives 130 million visitors a day, is still available in Louisiana despite the age verification law. Users accessing Pornhub from within Louisiana are presented with a different webpage that directs them to verify their age with the state's digital ID system, known as LA Wallet.
A spokesperson for the site told CNN that since the Louisiana law went into effect, traffic from that state has fallen by 80%. The spokesperson added that unlike Louisiana, Utah lacks a similar digital ID solution.
Since 2021, authorities have offered Utah residents the option to create an electronic version of their driver's license that is accepted at local credit unions, liquor stores and at Salt Lake City International Airport. According to a website for the program, as of March, more than 24,000 people have registered with Utah's system, which is designed to let users store their license on an app. But on Tuesday, the Pornhub spokesperson told CNN the system is not currently equipped to perform online age verification and is only set up for in-person usage.
MindGeek also owns a separate age verification company known as AgeID, which is currently in use in Germany, though it does not currently operate in the United States. MindGeek didn't immediately respond to a request for comment.
Amid allegations that Pornhub was facilitating the spread of a wide range of abusive material, the site has required since 2021 that performers who upload content undergo an age and identity verification process.