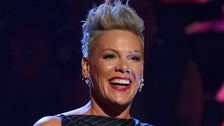 Haven't trolls on Twitter learned not to mess with Pink?
The "Get The Party Started" singer has a long and celebrated history of shutting down people who make mean and unwarranted comments about her appearance.
So, when far-right internet personality Stew Peters this week shared a photo of the mother of two with the caption, "Those aren't child-bearing hips," Pink responded with a perfect putdown.
"Stewie Stewie Stewie. You've got too much free time."
The pop star tweeted a clown emoji for good measure.
The comeback had Pink's fans raising a glass: