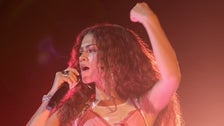 Coachella attendees got quite the surprise when Labrinth unexpectedly brought Zendaya on stage for a duet that ignited Twitter.
The moment comes just one week after the "Genius" singer astonished fans by teaming up for a collaborative performance with Billie Eilish during the first weekend of the annual music festival in Indio, California.
Twitter users wasted no time losing their minds over the "Euphoria" star's performance. Closing out the crooner's set, the 26-year-old performed "I'm Tired" and "All for Us," which were written for her hit HBO drama series.
After her performance, Zendaya dished out a thank you to Labrinth in her Instagram story.
"I cannot express my gratitude enough for this magical night. Thank you for my brother Labrinth for inviting me and giving me the most beautiful safe space to be on stage again," she wrote on Saturday night.
In a separate clip shared to her Instagram story, she talked about her "last minute" performance and gushed over the crowd's warmhearted support.
"I have never heard screaming like that in my entire life," she said of the crowd's massive energy.
Following the success of her 2013 hit single "Replay," Zendaya released her self-titled debut album the same year.
The Primetime Emmy winner, who has put her focus on acting projects in recent years, tweeted last year about her music career.
"I stepped away from music quite a while ago, for a number of reasons," she said in a tweet in March 2022. "But I still really love it."
Coming up for the actor, Zendaya is set to star in "Challengers," which follows three tennis players who knew each other as teens but later square off in a tennis tournament, igniting old rivalries.
Set for release on Aug. 11, the sports romance film also stars Mike Faist ("West Side Story") and Josh O'Connor ("The Crown").